The fonts you love from Typekit, now on your desktop
When we first joined Adobe, we wrote that "this represents a huge step forward in bringing fonts to the web." This turns out to have been something of an understatement—two years on, we're changing the way you use fonts on your desktop as well.
Many of you have already signed up for early access to desktop font syncing, and it's been great to hear so much positive feedback—not only about how easy it is to use, but also how it simplifies the way you use fonts between design and development.
Today, we're thrilled to open up desktop font sync to all of our qualified customers. Read on to learn about who's eligible and how to get started.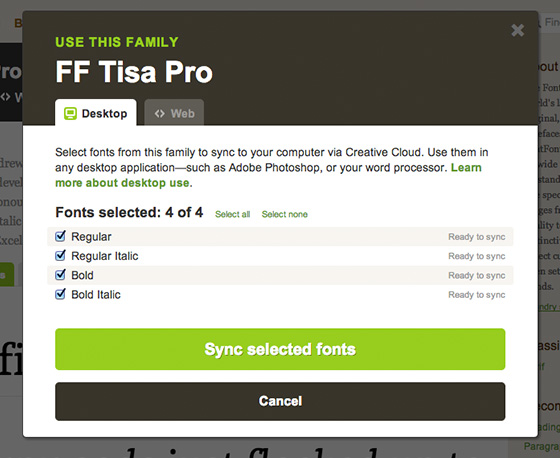 Choose from hundreds of fonts
We've profiled several different foundries on this blog who have already added their fonts to our selection available for desktop sync. We couldn't be prouder of this collection, which currently includes over 200 typeface families and four times as many individual styles—and we'll keep adding more to it.
Use them anywhere
When you sync fonts from Typekit to your desktop, they are cached locally on your computer. That means they'll go anywhere your system fonts do—word processors, slide presentations, and, of course, any Adobe application. Our desktop license covers all the same terms of use you'd expect from a system default font, which means you can safely use synced fonts from initial design through final production.

Getting started with sync
Desktop font sync is available to customers with a paid monthly or annual Creative Cloud subscription or a Portfolio, Performance, or Business standalone Typekit plan that has been linked to an Adobe ID.
If you've already got one of the subscriptions listed above, then you have this feature turned on as of today. Jump right in and start syncing! (And if you're new to this, we'll be happy to walk you through it.)
Did you already sign up through the early access program? You don't need to update anything today. Just keep rocking!
What's next
Today's a big day in Typekit history. We're delighted to help you bring great type into all of your work, and it's exactly the kind of seamless integration we hoped to accomplish when we joined Adobe. We're also grateful for the foundry partners whose amazing work has been such a fundamental part of what we're here to do. Supporting great foundries while putting type within reach of more designers—it's wonderful to see this ecosystem take shape.
This isn't the end of the road, either. We know you expect more from us, and we plan to keep exceeding those expectations. We'll continue to develop new ways for you to access and use fonts everywhere you need them—as well as support our talented foundry partners.