InDesign & Illustrator bring Typekit fonts even closer to your work
The Creative Cloud team here at Adobe continues to impress us with their dedication to smoothing the seams in the creative process. We're delighted with how the work we did together on desktop font sync has turned out. For those of you who use Illustrator and InDesign, we've gone a little further and helped to update the actual application interfaces, so that it's easier still to see your synced fonts from Typekit and pull them into your projects.
Hunt for missing fonts on Typekit from within InDesign
You've probably had the experience of opening up a file with fonts missing from your system, forcing you to search for a replacement. The InDesign team has found a great way to make this process a little easier, and have updated InDesign to identify which of those missing fonts are available to sync from Typekit.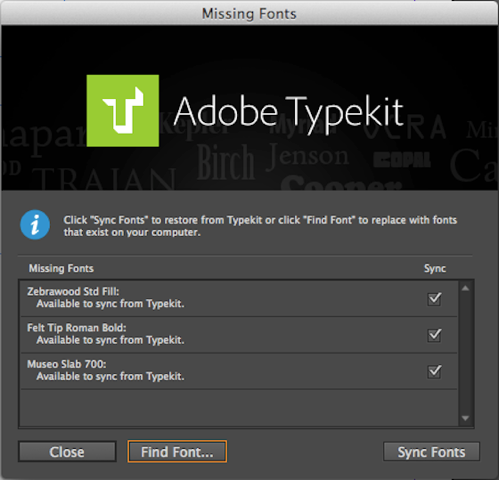 And even if you don't have to deal with missing fonts in your files, you can still benefit from this upgrade just with the lovely new font selection interface that indicates which fonts from Typekit you've already synced.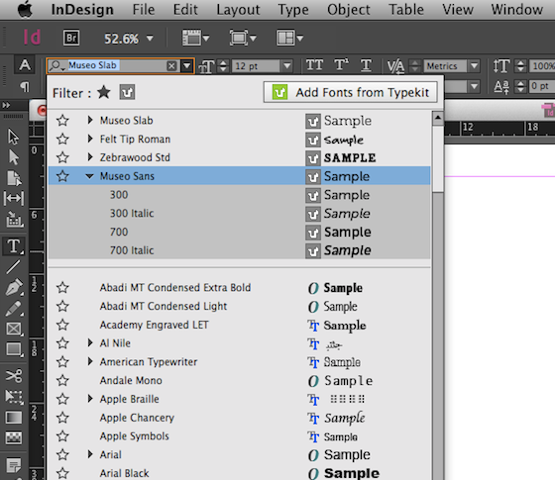 Easy Typekit browsing in Illustrator's font menu
You'll also enjoy a smooth font selection experience in updated versions of Adobe Illustrator. Fonts you have already synced from Typekit are labeled with our icon in the font menu—and if you need to, you can use the "Add Fonts from Typekit" button to head directly to typekit.com/fonts and select some more.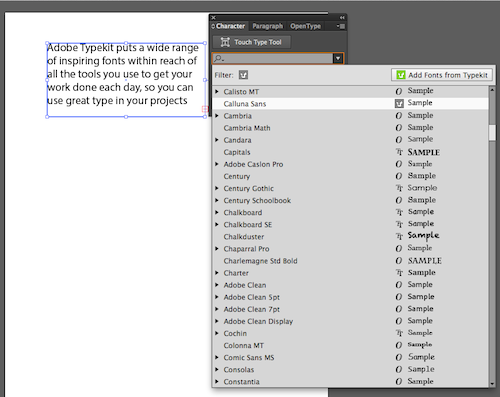 Rufus Deuchler walks through the process in this video from the Illustrator team.
Have you joined Creative Cloud?
To see these updates to Illustrator and InDesign, you'll need the latest versions of the applications from Creative Cloud, and an Typekit subscription that includes font sync. Find the plan that works for you on Creative Cloud, and don't hesitate to get in touch with us if you have any questions about linking an existing Typekit account to Creative Cloud.