Coming to your desktop: fonts from URW++
This is our seventh post in a series highlighting foundry partners who will offer fonts for desktop sync, including Dalton Maag, FontFont, Mark Simonson Studio, TypeTogether, ParaType, and exljbris.

Founded in 1972 as URW (Unternehmensberatung Rubow Weber—from the founders' names) in Hamburg, Germany, then re-imagined as URW++ in 1995, this foundry has been a pioneer in the digitization of type. In addition to crafting many popular original typefaces, URW also develops software for professional font production.
The Typekit library includes several classic fonts from URW++ for web use; Nimbus Sans is frequently featured in the list of your favorite fonts. We are excited to make them available for use in desktop applications as well.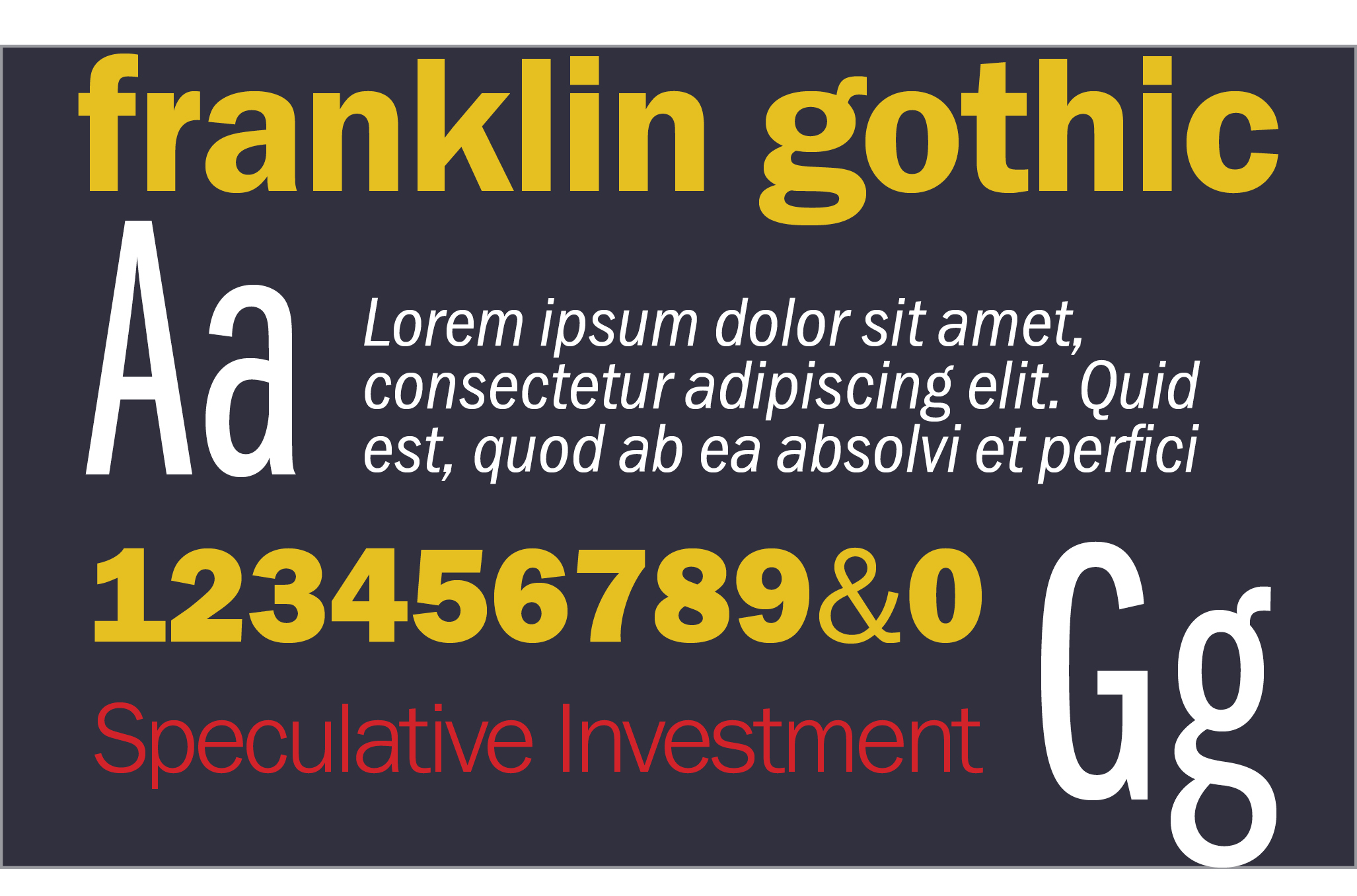 Franklin Gothic spec sheet
Designed by Morris Fuller Benton for the American Type Founders in 1902, Franklin Gothic was created to be a workhorse. An early geometric sans, the font was designed to work within the grid-based layout system used by newspapers, and for other high-content print material such as train tables.
The simple, unadorned face is highly legible, and in its legibility lies its flexibility. Franklin Gothic pairs well with other types, and is highly tolerant to variations in line and letter spacing. At its heavier weights, it can be read from across the room; at its lightest, it presents content with refreshing clarity.
Typekit is offering URW's version of the font with a full eight variants—as well as Condensed and Extended versions, each with 2 variants.

Alternate Gothic No. 2 D
Alongside Franklin Gothic, we're also offering URW's version of Alternate Gothic.
Designed in 1903, also by Morris Fuller Benton, Alternate Gothic is a condensed variation of Franklin Gothic that is distinguished for its height versus width dynamic. The M height is greater than its width, making it a great font for copy-fitting. Also, its height-to-width ratio makes every character read like an exclamation point—the words almost shout from the page.
The three traditional widths of Alternate Gothic are available: No. 1 D (the narrowest option), No. 2 D, and No. 3 D (the widest of the three).
Additionally, the Alternate Gothic OpenType Features include Numerators and Denominators for mathematical notation. Pretty swank.
Below is a complete list of the families from URW++ that we'll be making available for desktop sync. Add them to your favorites so you can find them quickly when we launch the desktop sync feature, and use them on the web today. If you've never given Typekit a try, sign up (it's free!), and upgrade to a paid plan when you're ready.