Coming to your desktop: fonts from exljbris
This is our sixth post in a series highlighting foundry partners who will offer fonts for desktop sync, including Dalton Maag, FontFont, Mark Simonson Studio, TypeTogether, and ParaType.
Jos Buivenga has been designing type for nearly twenty years, beginning in 1994 with a font named Delicious. Pleased with the favorable response to his first designs, Jos posted the fonts on his website for free downloading, and continued with his typography hobby on the side of other work. After about a decade of this, and in response to his growing popularity, he opened the exljbris foundry and transitioned into full-time type design.
Throughout his years of designing type, Jos has continued to make many of his completed fonts available for free download online—a relaxed business model for a foundry, to be sure, and one which has won him a great deal of interest and popularity. The price point isn't the only reason we see his type in so many places, though; Jos keeps the quality high as well, and works to continually expand and improve upon the font families his foundry offers. We've especially enjoyed the immensely popular Museo superfamily, and after seeing some fantastic use of this and other exljbris fonts on the web, we're excited to begin offering them for desktop sync later this month.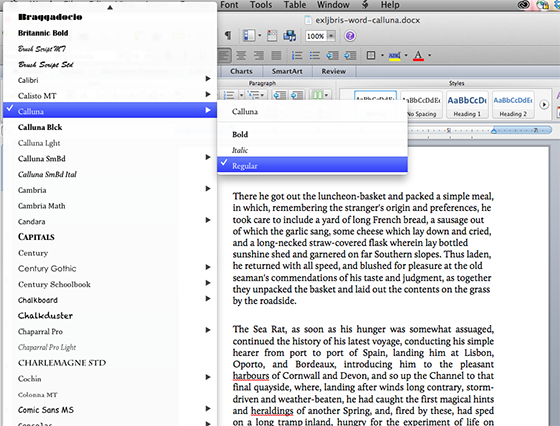 Calluna, shown as a font option in Microsoft Word.
One of the first "serious" versions of a text font from exljbris, Calluna is an attractive option for longer blocks of text that need to be easy to read even at small sizes. Subtle details—like the long descenders on capitals Q and J—give Calluna a distinct personality without becoming distracting. It looks great on screen, and translates nicely to desktop word processing programs as a refreshing alternative to your system default serifs.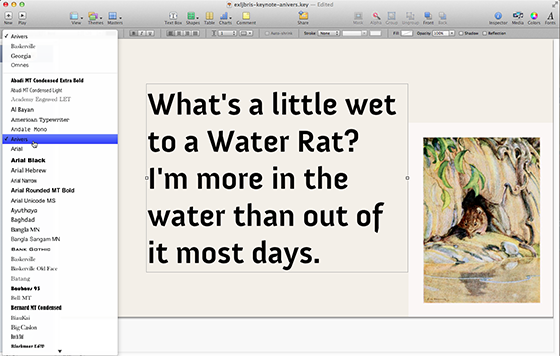 Anivers in Keynote.
Designed as tribute font for Smashing Magazine's first anniversary, the distinctive shape of Anivers immediately grabs readers' attention. Since its release in 2007, Jos has worked to expand it into a robust and reliable font family that is suitable for several different uses; while it really shines as a display font, it also makes for an attractive and very readable text font at smaller sizes. We've sampled it here in Keynote; in presentations, this is a typeface that the back row should have no trouble deciphering, and it's stylish to boot.
Below is a complete list of the families from exljbris that we'll be making available for desktop sync. Add them to your favorites so you can find them quickly when we launch the desktop sync feature, and use them on the web today. If you've never given Typekit a try, sign up (it's free!), and upgrade to a paid plan when you're ready.