Source Sans Pro: Adobe's first open source type family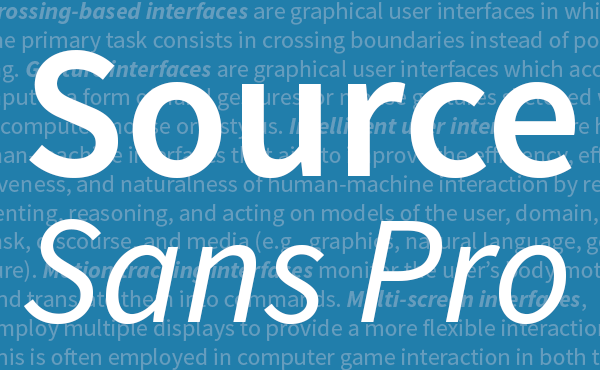 Adobe's legacy in type technology
Adobe has come a long way since its early days in which the specification for the PostScript Type 1 font format was a closely-guarded trade secret leading up to the "font wars." Since this specification was begrudgingly published in 1990, Adobe has been more proactive in publicly releasing tools for developing and producing high-quality type. Subsequently, Adobe collaborated with Microsoft on the OpenType standard, which was later made an open standard for type technology as the Open Font Format: a free, publicly available standard (ISO/IEC 14496-22:2009). In connection with this, Adobe has shared its tool set for building OpenType fonts as the Adobe Font Development Kit for OpenType (AFDKO). Although these tools are not open source, they can be used freely and have been downloaded by thousands of users. Additionally, tools such as FontLab Studio and FontMaster make use of AFDKO code for building fonts. I believe that the world of type design and typography has benefited greatly from Adobe's contributions in the arena of type technology. In adding to this legacy, I am proud to announce that today marks another milestone as Adobe makes yet another type resource freely available by releasing the Source Sans Pro family as our first-ever open source type family.
Adobe's open source contributions have not only been limited to the realm of type. In recent years, Adobe has been publishing more specifications and creating more open source tools. In fact, Adobe has partnered with SourceForge to maintain many of our projects on the Open@Adobe portion of that site. In addition, there is an increasing number of Adobe-initiated projects hosted on GitHub as well. As more platforms and applications are being developed at Adobe as open source software, our type team has been fielding more frequent requests for type for these environments. Although there are many open source type families currently available, we felt that our applications would benefit from a typeface tailored to their specific needs and that this would be an opportunity for us to make a useful contribution that would benefit Adobe, the open source community, type developers, as well as anyone who uses type.
The brief & development
The primary need for type in Adobe's open source applications has thus far been for usage within user interfaces. A second environment of perennial interest to Adobe is the realm of text typography. Thus the immediate constraints on the design were to create a set of fonts that would be both legible in short UI labels, as well as being comfortable to read in longer passages of text on screen and in print. In thinking of typeface models that accomplish these tasks well, I was drawn to the forms of the American Type Founders' gothics designed by Morris Fuller Benton. In particular, I have always been impressed by the forms of his News Gothic and Franklin Gothic, which have been staples for typographers since their introduction in the early twentieth century. While keeping these models in mind, I never sought to copy specific features from these types. Instead, I sought to achieve a similar visual simplicity by paring each glyph to its most essential form.
During the development process, I was fortunate to be able to work with application developers who deployed beta versions of what would become Source Sans in the environments for which they were intended. In fact, preliminary versions of the design have already shipped with a couple of Adobe open source projects. A very early version of the type family has been included in the Strobe Media Playback platform, using the name Playback Sans. More recently, the WebKit-based code editor, Brackets, has featured updated versions of the Source Sans fonts in its user interface, as well as on its home page. Having real world testers, I was able to receive recommendations on ways I could improve the design. One particular feature that came about due to user feedback is the treatment of the lowercase l. To fully differentiate it from the uppercase I, I gave the default glyph for this letter a tail, even though it is uncharacteristic for this particular type style. For usages where this level of distinction is not required, there is an alternate, simple lowercase l (without the tail) accessible via stylistic alternates or by applying a stylistic set.
About the fonts
We realize that the majority of users interested in this project will likely only want the fonts. For this purpose, there is a Source Sans font package on GitHub that includes just these resources, as well as a package of binary files. The family currently includes six weights, from ExtraLight to Black, in upright and italic styles. The fonts offer wide language support for Latin script, including Western and Eastern European languages, Vietnamese, pinyin Romanization of Chinese, and Navajo (an often overlooked orthography that holds some personal significance for me). These fonts are the first available from Adobe to support both the Indian rupee and Turkish lira currency symbols. Besides being ready for download to install on personal computers, the Source Sans fonts are also available for use on the web via font hosting services including Typekit, WebInk, and Google Web Fonts. Finally, the Source Sans family will shortly be available for use directly in Google documents and Google presentations. Full glyph complement specimens (793K) are available in the Adobe type store along with informational pages for each style.
In making these fonts open source, it is important to us to make all the source files we used in their production available so that they can be referenced by others as a resource on how to build OpenType fonts with an AFDKO workflow. The full package of source files can be obtained from the Source Sans download page on GitHub. As part of this ongoing project, we are publishing a roadmap of features that we plan to implement in the near future. At present, this includes items such as expanding the fonts to provide Cyrillic and Greek support, as well as producing a monowidth version of the Source Sans design.
In addition to making these files available as a learning resource, we are eager that this project will become an undertaking in which we can collaborate with others in the design community. We hope that if any of you want to build upon these assets that you will consider coordinating with us to help add features and increase language support for this family. In fact, this project has already been a concerted effort (as is so much of type design). I am grateful to Robert Slimbach for his guidance throughout this project — the design would not have been anywhere near as good without his input. I am indebted to Miguel Sousa who ensured that all of my files were fit for publication. I would also like to thank Ernie March for his work in testing and vetting the font files. We hope that you find these fonts useful in your work and we look forward to seeing the interesting ways in which you employ them in your designs.
Updates
The monospaced version has been released
Greek and Cyrillic have been added to upright fonts
Updated 2 August 2012, 5:35 PM to add information regarding PDF specimens.
Updated 22 October 1012, 2:30 PM to add information regarding GitHub.
Note: We have updated some links in this post for clarity; Adobe open source projects are hosted on GitHub, but no longer on SourceForge. (10/23/2014)