BluHead Studio and Moretype join Typekit
Today, we're delighted to announce two new foundry partnerships. We've added typefaces from BluHead Studio and Moretype to the Typekit library, and we think you'll love them.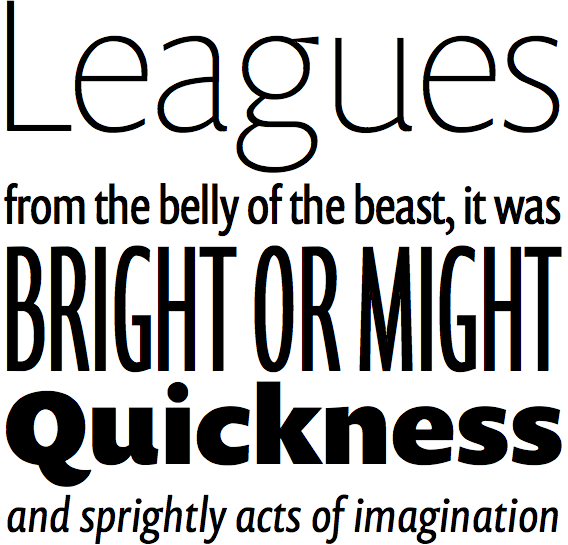 Top to bottom: Prenton Display Thin, Prenton Condensed Regular, Prenton Ultra Condensed Light, Prenton Black, Prenton Italic.
From BluHead comes Roy Preston's Prenton, with ten weights and styles and nearly a dozen Condensed, Ultra Condensed, and Display variations. Typographica has compared Prenton to the historic Gill Sans, calling it "an undiscovered modern alternative with plenty of cuts." It's a well-made, versatile family with a classic feel and extensive language support.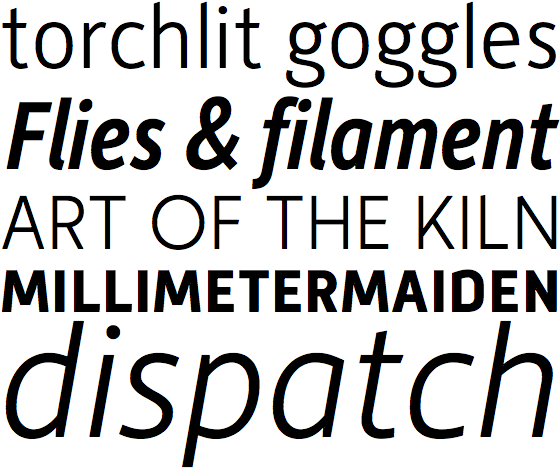 Top to bottom: Alber New Light, Depot New Condensed Medium Italic, Faricy New Light, Mic 32 Bold, Hedley Light Italic.
Chris Dickinson's Moretype brings seven sans-serifs, each with at least eight weights and styles: Alber New, Alwyn New, Depot New, Depot New Condensed, Faricy New, Hedley New, and Mic 32 New. It's clear that these typefaces share a designer – there are many structural similarities among them – yet they differ in subtle ways. From Faricy New's geometric rounds to Alwyn New's squarey bends and Mic 32 New's tubular lowercase, you (and your clients) are bound to like one.
On top of that, all seven Moretype families have been manually TrueType hinted to look great on screen. Although Chris came to Typekit with hinted fonts, he worked for weeks to improve them further, checking each iteration's rendering with the browser samples feature of Typekit's foundry review tools. Please join us in thanking Chris for his hard work — and give Moretype fonts a try in your next project.