New variable fonts from Adobe Originals
Photoshop and Illustrator announced plenty of new features at Adobe MAX this week, include some exciting typographic features we've been anticipating: support for OpenType variable fonts.
This new font format allows users to customize the styles within a typeface design, effectively giving them an entire family of fonts in a single file. We've included a few Adobe Originals families with this release of Illustrator and Photoshop to make it easier for you to explore what variable fonts can do.
Here's a quick walkthrough of this week's typographic updates from the Photoshop team.
Don't miss the Illustrator announcement, either, which introduces its own nifty typographic controls.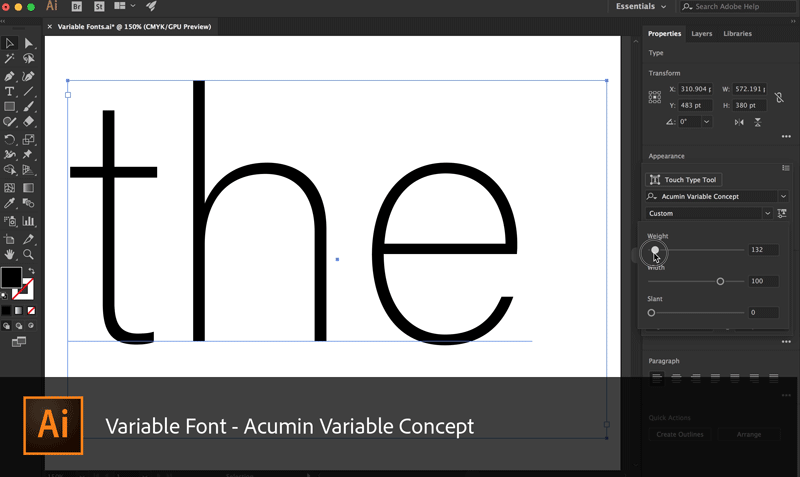 We chose six families to best show what the new format will allow, and how the possibilities may differ from one typeface to another. Five of these are from our Variable Concept font collection, allowing you to play with the full variable design space on some of our most popular Adobe Originals families (although you'll only have a limited character set for now).
Myriad Variable Concept allows you to see how the weight and width styles of Myriad Pro can interact as you adjust each property.
Acumin Variable Concept allows you to adjust weight, width, and even the slant angle, combining all of Acumin's 90 variants in a single dynamic font file.
Minion Variable Concept is a special treat — a preview of a major update to the Minion family that will be released in the near future. Although you won't yet get to see all the features of the new Minion, you'll be able to adjust its revamped weight and optical size settings with this version.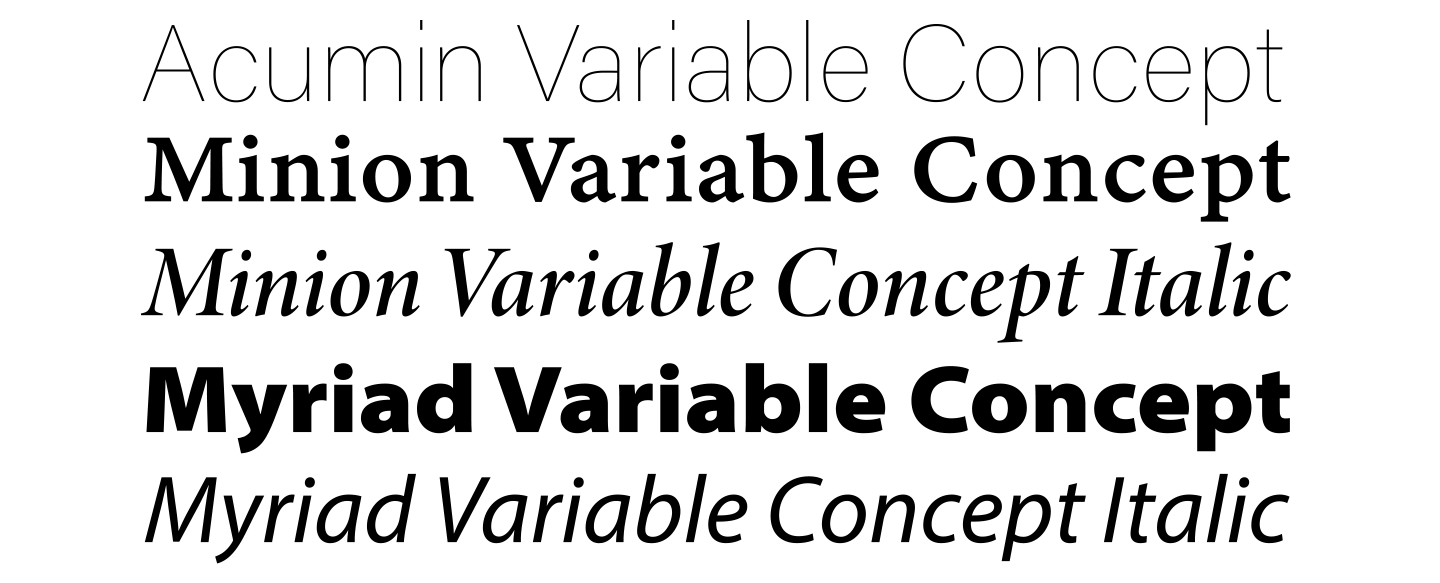 From the Source superfamily, Source Sans Variable, Source Serif Variable, and Source Code Variable all allow you to play with the weight range in each design, and they also contain the complete character set of the Pro versions.

In addition to using the Source Variable families in Photoshop and Illustrator, you can download them from our GitHub page so you can try them out in other applications and environments as the support for variable fonts becomes more widespread. We'll keep you posted as that support develops! Check out our roundup of variable fonts news and follow the discussions on TypeDrawers.