Myriad Devanagari and Myriad Bengali: New Brahmic type from Adobe Type
It is with great satisfaction that I present the two newest additions from Adobe Type to the Typekit library, Myriad Devanagari and Myriad Bengali. Designed by Vaibhav Singh and Neelakash Kshetrimayum, respectively, these typefaces translate the design of our popular Myriad family to the most-used writing systems of India.
From the beginning, the concept for these families was to make them harmonize in spirit with Myriad, Adobe's best-loved sans serif design, and to continue building out the general usability for the Myriad superfamily. Existing Myriad families already included script coverage for Latin, Cyrillic, Greek, Hebrew, and Arabic writing systems. Designing Devanagari and Bengali extensions of Myriad provides a powerful typographic system for designers who may need to set text in various languages using a consistent style.
In addition to usability, an equally important concern was the appropriateness of the design for digital display. The design principles that govern Myriad—letterforms informed by writing, generous counters, bright joins, simplified detailing—are all hallmarks of type design that works well for screen-based media. In adapting the typographic features for Devanagari and Bengali, we took great care to balance the traditional calligraphic conventions of these scripts with the spirit and simplicity of Myriad.
Vaibhav and Neel, both extremely talented designers, have previously worked with us on the Adobe Gurmukhi and Adobe Bengali types. It was very important to me to involve Robert Slimbach to find the right balance of "Myriadness" for these family extensions as he was one of Myriad's principal designers, along with Carol Twombly, and had also designed the Arabic and Hebrew extensions of the family. Fiona Ross also consulted on these projects, providing guidance and ensuring that our design decisions were appropriate for the Indian scripts.
The resulting designs for Myriad Devanagari and Bengali are sturdy and dynamic, combining moderately low contrast with traditional proportions, and detailing informed by calligraphy. On screen, the resulting text leaves a strong impression and avoids a dull, heavy texture that can be a pitfall for many sans serifs.
Each of these new families includes 10 styles, featuring five weights from light to black with accompanying obliques. This suite of variations provides a wide range of typographic options typically unavailable for these writing systems. Myriad Devanagari supports the languages Hindi, Marathi, Nepali, and Sanskrit. Myriad Bengali supports Bangla and Assamese languages. These fonts can be used on the web or synced for desktop use from Typekit, and you'll find perpetual licenses for them on Fontspring.
Brahmic type design at Adobe
These two new families have been designed and produced as part of an Adobe Originals initiative to provide our customers with premium quality fonts for the top 10 languages of India. This project began in 2005 with the development of Adobe Devanagari by Tiro Typeworks for our library. In 2012, Adobe moved Brahmic type development efforts in-house, collaborating with external designers to produce well-crafted fonts for additional Indian writing systems.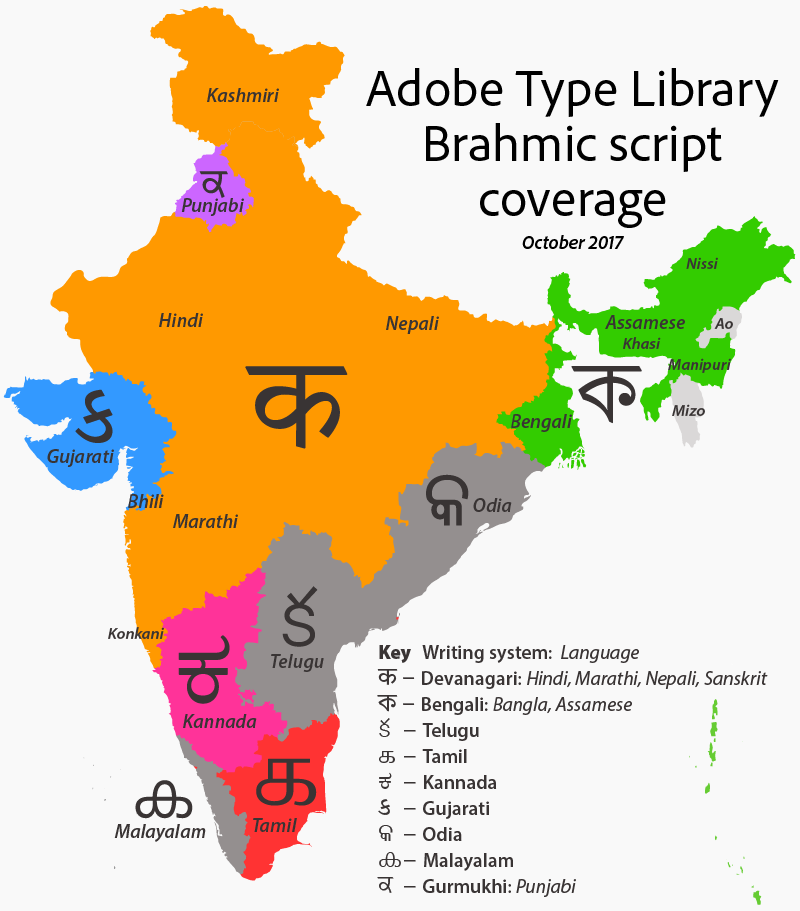 Until now, all of these released Brahmic type designs have been specifically tuned for use in print media in order to meet the needs of our print publishing customers on the Indian subcontinent. The release of Myriad Devanagari and Myriad Bengali, both developed with screen display as a primary use case, is a notable shift in our Brahmic type design philosophy.
Personally, I'm excited that these typefaces are breaking new ground, and it's always very humbling to work with such talented designers in the process. I feel that it took all of our combined efforts to make these new type families a reality, and I'm looking forward to what's next.