New on Typekit: Sync multiple fonts more easily
Starting today, "multi-sync" (as we call it) is back and better than ever—including the much-requested ability to sync entire font families with just one click.
Since we launched Typekit's new user interface last year—including our new, bigger type families—one of your most popular requests has been to bring back the ability to sync several fonts from a family at the same time.
On most family pages, you'll now see a Sync All button that does exactly what it sounds like—click it and all the fonts in the family will be added to your sync selections right away, and synced to your computer within seconds. This makes it a lot easier to play around with the whole range of weights, widths, and other variations within families, not to mention a lot simpler to set paragraph text with the standard "RIBBI" (regular, italic, bold, bold italic) styles.
A small number of our families are very, very big: Acumin, for example, has 90 fonts, while Kepler has a whopping 132 fonts. On these families' pages, you'll see a drop-down menu, allowing you to sync all the fonts within a subset of the family, such as Acumin's widths or Kepler's optical sizes. This gives you more control over how many fonts you're syncing at once, to help you avoid syncing more fonts than you need.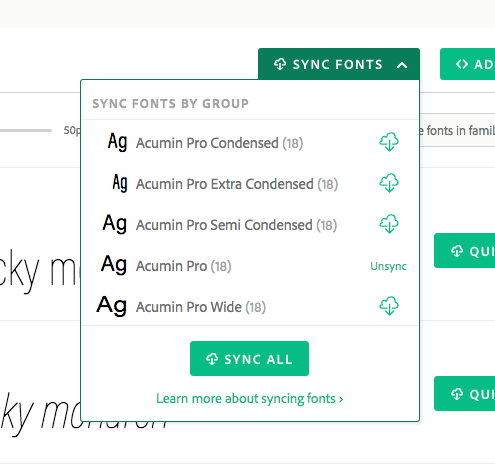 Of course, if you really do want all 132 fonts, there's a Sync All button at the bottom of the menu.
Managing your synced fonts
All Typekit plans have a limit on the number of fonts that can be synced at one time. These "sync limits" are similar to the pageview limits that apply to each plan for web fonts. Today's updates will make it easier to understand what your plan's limits are, and to figure out what to do if you've gone over them.
If you sync a font beyond your plan's limit, we'll display a message letting you know. You can visit the Synced Fonts page to manage your previous sync selections and unsync fonts you're not using anymore, or see if it's time to invest in a plan with a higher sync limit.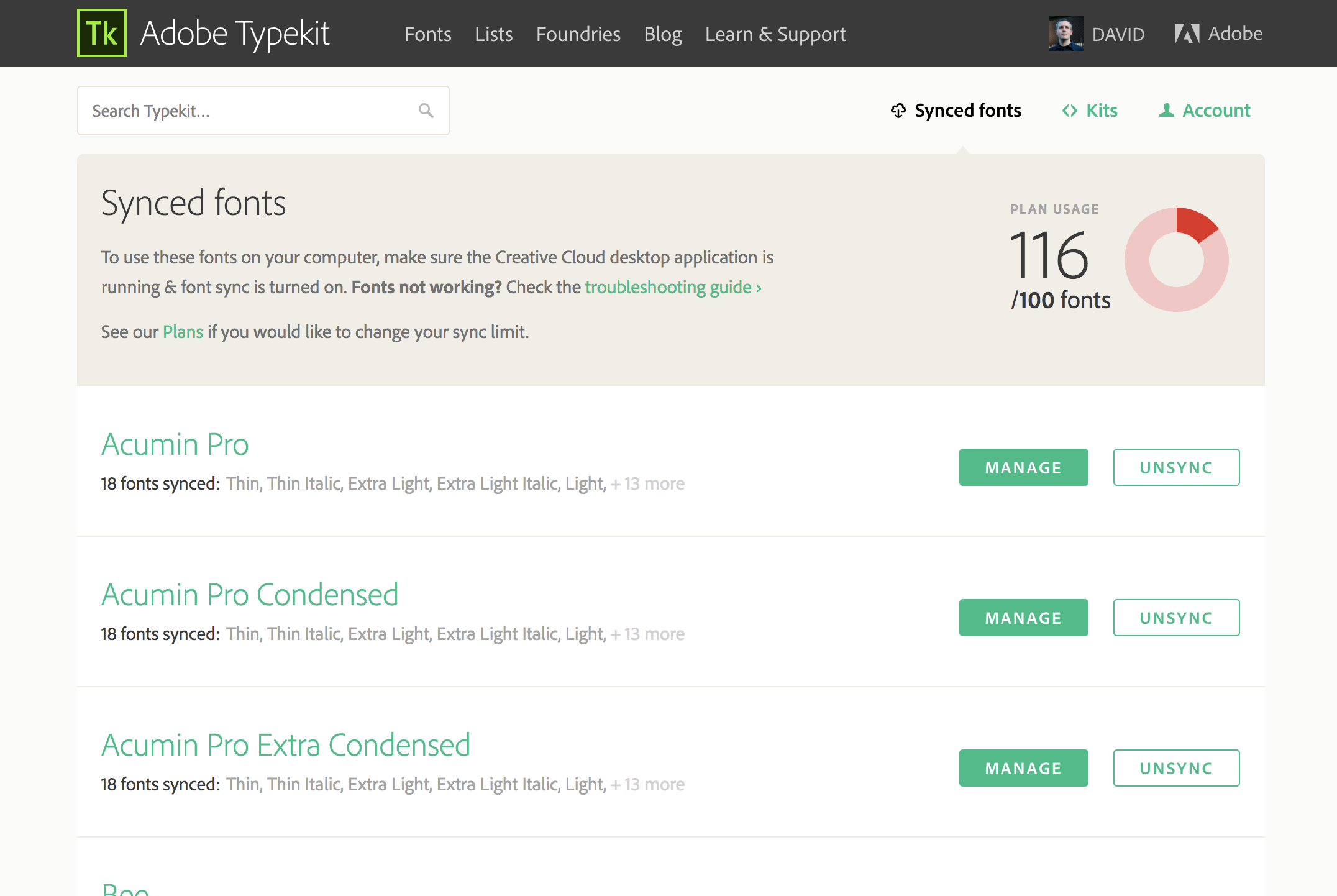 We've also added a usage meter to the Synced Fonts page, along with some labels indicating how many fonts are synced from each family, so you can better manage your usage.
Customers who stay over their sync limit for a prolonged amount of time may get an email from us asking them to unsync some fonts or upgrade. We'll never charge your credit card without contacting you first.
We've been busily adding a lot of new fonts to our library for sync, so we expect this is good timing to introduce an easier way to sync a bunch of them at once. Keep up with us on Twitter and Instagram to hear about new library additions, and don't hesitate to send an email our way if you have questions about anything.