Finding the right Typekit plan
If you're new to Typekit, we realize it can be a little daunting to decide where to begin. To make it easier, today we're rolling out a redesigned plans page to help you find and choose the right plan for your type needs.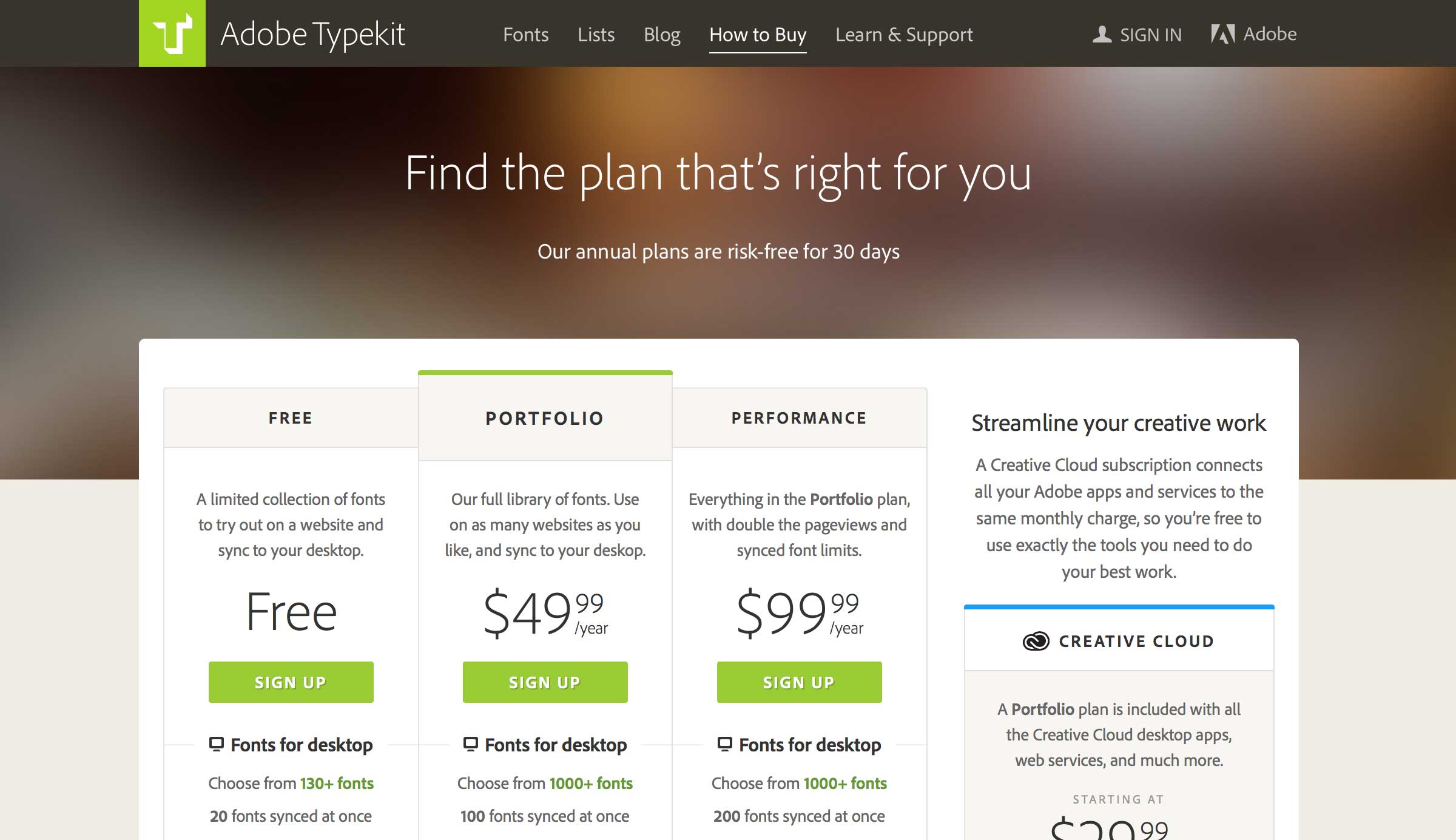 Get started for free with an Adobe ID
You'll get a Typekit Free plan just by signing up for an Adobe ID. This plan is yours to keep for as long as you want, and gives you access to a limited selection of fonts that you can sync to your desktop, or publish to one website.
The Typekit Free plan is great for casual users, or people just getting started with Typekit. It comes with a great selection of free and open-source typefaces for web and desktop use from Adobe, The League of Movable Type, and many other great designers and foundries. Free users also get access to a limited selection of commercial, web-only fonts from exlijbris, TypeTogether, and others.
Up your type game with a paid plan
When you're ready for more type options — or when your website starts to take off and you need more pageviews — upgrading your plan is easy.
For most people, we recommend the Typekit Portfolio plan, which is included in every complete or single-app Creative Cloud subscription. If you don't have a paid Creative Cloud plan, or if you have the Creative Cloud Photography Plan that comes with Typekit Free, you can also subscribe to the Portfolio plan separately for $49.99 per year.
(If you start out with a Portfolio plan and decide later to upgrade to a paid Creative Cloud membership, we'll automatically refund the unused part of your last annual Typekit fee.)
Regardless of whether you buy a Creative Cloud membership or standalone Typekit subscription, all paid members get access to our full library of typefaces: more than 900 individual font styles for desktop and web use, plus more than 4,200 web-only fonts, all from some of the best designers and foundries around. You can publish fonts on as many websites as you want, up to 500,000 pageviews per month — plenty for most personal and small business needs.
For larger websites that receive more traffic, we offer the Performance plan — with all the same features as Portfolio plus double the pageviews — as well as Business plans for really big websites.
All Typekit standalone plans come with a 30-day money-back guarantee. If you find Typekit isn't right for you, or if you decide that the Free plan is plenty for your type needs, just downgrade your account, then email support@typekit.com and we'll refund the cost of your plan.
What happened to the Personal plan?
Longtime Typekit customers may notice something's missing from this new page. Starting today, we are no longer offering the Typekit Personal plan to new customers.
The Personal plan was previously our "lite" option for small web publishers who needed a little bit more than was available in the Free tier, but not all of the features and type options in the Portfolio plan.
Though the Personal plan included a limited selection of commercial typefaces for web use, we weren't able to offer those fonts for desktop in that plan, because of its lower price point. It ended up being more confusing than we'd intended; many customers would upgrade from Free to Personal to get access to a particular font, only to find it still locked until they upgraded again to Portfolio, which was a bad experience all around.
The updated plan offerings simplify this, so that all paid Typekit plans provide access to the same Full library of fonts.
If you're currently subscribed to the Personal plan, you'll continue to enjoy the price you're at — and we're eliminating some of the restrictions that were previously on it.
Starting today, Personal members now get access to the full Typekit library for desktop and web use, and can publish unlimited kits. Personal plans still will have the same limits on monthly pageviews (50,000 per month) and synced fonts (50) as before.
Got questions about where to start? Please don't hesitate to ask us. Send an email to support@typekit.com anytime, and we'll be happy to help you out.