Announcing Windows Phone 8 support
On Monday, Microsoft officially announced their new Windows Phone 8 operating system for mobile devices. It comes with a long list of new features, but we're most excited about the new web browser: a new mobile version of Internet Explorer 10 that finally brings support for web fonts and the standard WOFF font format to Windows Phone. Today, we're announcing official Typekit support for Windows Phone 8 and up.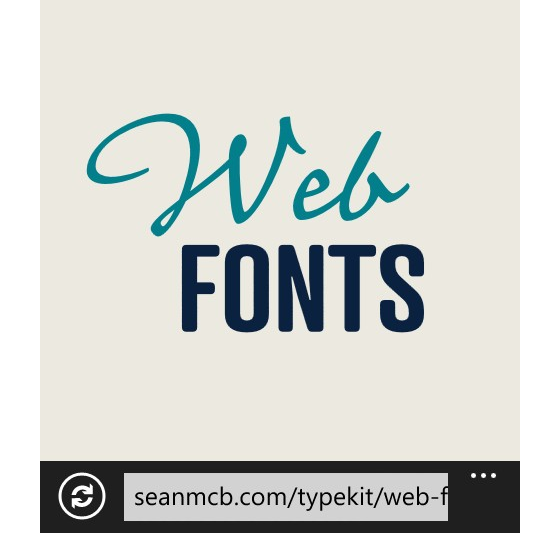 Screenshot of Typekit fonts rendering on a Windows Phone 8 device.
Windows Phone now joins iOS and Android in supporting web fonts on mobile devices. We're excited about this release because it increases the number of mobile devices that support web fonts and the latest web standards.
We began working on initial support for Windows Phone with Microsoft in July of this year. After collaborating with them to add and test support using developer devices, we launched experimental support to kits published after August 16. Now that Windows Phone 8 is officially launched, we're making our support for the platform official as well.
In order to take advantage of Windows Phone support in your own kits, all you need to do is head over to typekit.com and republish. If your kits were published after August 16, they should already have support for Windows Phone baked in.
Following the pattern for our other supported mobile platforms, we've also added an option to disable support for Windows Phone in individual kits. You'll find this option in the Kit Editor under Kit Settings > Mobile Settings. Uncheck the box for Windows Phone and republish your kit to turn off support. This option is useful if you're building a responsive site that doesn't require web fonts to be loaded on mobile platforms, or if you encounter issues with Windows Phone.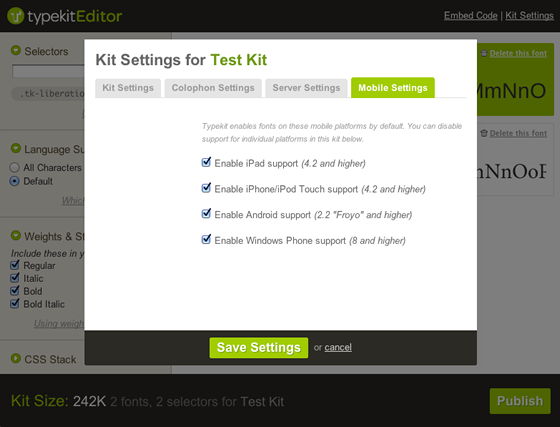 Settings for enabling and disabling support for mobile platforms, including Windows Phone.
As always, if you run into problems with web fonts on Windows Phone or any of our officially supported platforms, contact us at support@typekit.com.