Screenshots of all our fonts in every browser, on every platform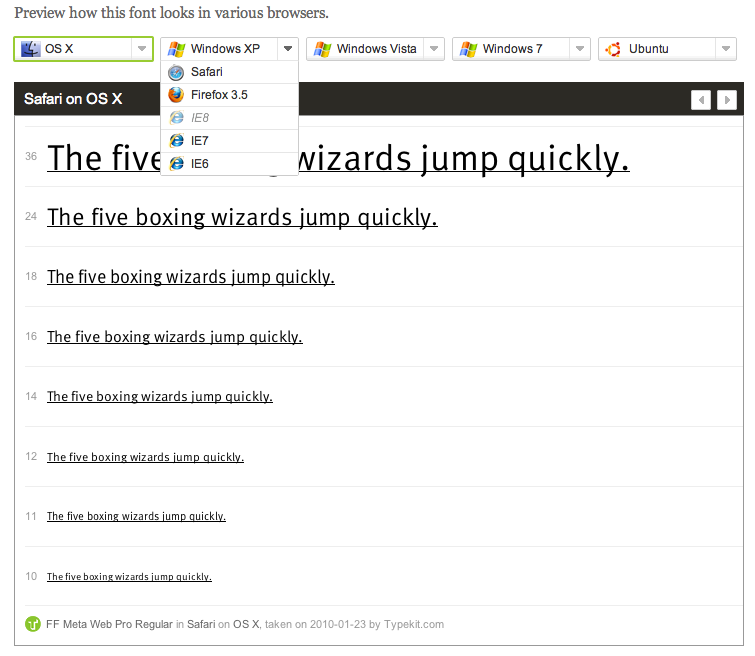 Using real fonts on the web is turning out to be pretty amazing. You get all the benefits of HTML — searchable, accessible text that loads quickly — with visual appeal that used to required images or Flash. But you also get a whole new set of choices and browser compatibility issues to deal with.
Using Typekit smooths out a lot of the hassle that comes with embracing a brand new technology. We serve the right fonts to the right browser, and account for occasionally inconsistent implementations. But recently, a lot of people have been noticing that not all fonts are right in all situations. Some fonts are optimized for small, readable text; others have a personality that really shines when displayed large. And some fonts render differently in different browsers and on different operating systems. It all can be really confusing.
To try to alleviate some of these issues, we've built a new feature that we're pretty excited about. Starting today, you can now view screenshots of every font in our library in every browser that supports @font-face. Want to see how FF Meta renders in IE 6 on Windows XP? How about Skolar in Firefox 3.5 on Ubuntu? We've got it covered. Just navigate to any font on Typekit and click on the "Browser Samples" tab. You can click through the collection of font rendering samples and get a good sense for how that typeface will perform in various settings. And we'll be adding more combinations in the future: Chrome is up next, and Firefox 3.6 will follow soon after.
What do you think? Is there any way we could improve the feature? Let us know in the comments. Thanks!