Adobe Type Introduces Bickham Script Pro 3
Bickham Script Pro 3 is the latest extension of the Bickham Script type family, a connecting script designed by Richard Lipton and a part of the Adobe Originals type program.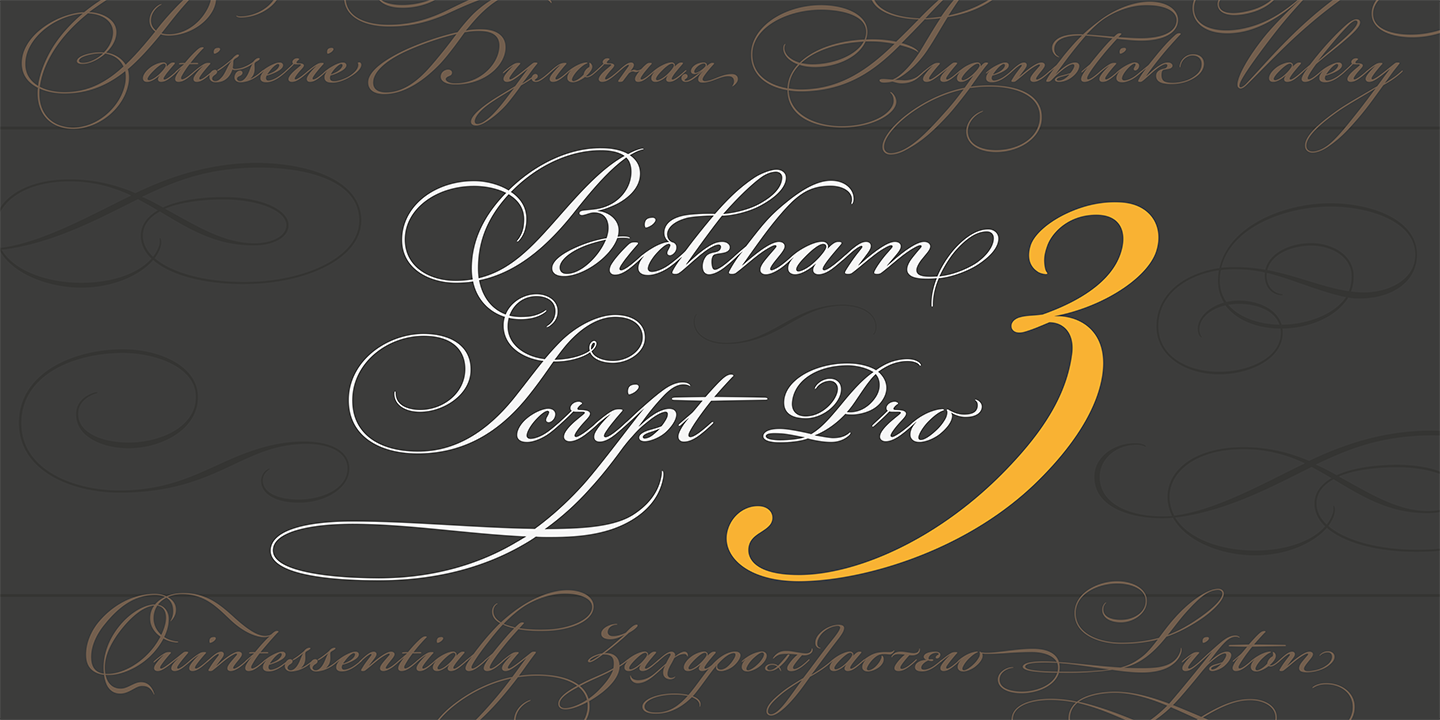 Bickham was based on the superb examples of the writing master's art from George Bickham's 18th-century compendium, The Universal Penman. Lipton is an accomplished calligrapher, who has designed several cursive typefaces that explore this tradition and the possibilities for turning a complicated style of writing into a digital typeface. Bickham Script Pro is in many ways his typographic masterpiece.
In addition to a greatly expanded array of alternate letterforms, ligatures, and swashes, Bickham Script Pro 3 adds support for Cyrillic and Greek alongside the existing support for Western, Central, and Eastern European languages in the Latin alphabet. The Greek and Cyrillic, like the Latin, offer a variety of alternate forms appropriate to each script.
Bickham Script is primarily a display typeface, meant to add an accent of beauty and calligraphic elegance to a typographic composition in headings or short passages of large text. It derives, however, from what was originally considered a practical everyday writing style.
About Bickham Script Pro 3
This updated version of Bickham Script has been in the making for decades — or centuries, depending on when you start counting. This series explores the historical roots, design, and creation of the typeface.
---
How did this flourishing style develop? Why was it used? An instructive overview.
---
When 19th-century penmanship meets 21st-century font development technology.
---
Detailing where to use Bickham Script in your work and how to make it shine.
---
Calling in support from across the type industry to build a Bickham for the Greek and Cyrillic scripts.
---
Type designer Frank Grießhammer describes the process of programming contextual alternates, and extending it to Greek and Cyrillic scripts.
---
George Bickham's surviving work mostly exists in archival collections and facsimilies. These are the people who brought it to your computer.
All glyphs in the specimen PDF are shown at Regular weight.