Launched and live: Custom language subsetting options
Since announcing last month that our new language subsetting options were in Early Access, we've continued work on the feature; thanks to all our early testers for your feedback! Today we're officially launching the feature for all customers, so you'll now see the additional subsetting controls in the Kit Editor by default.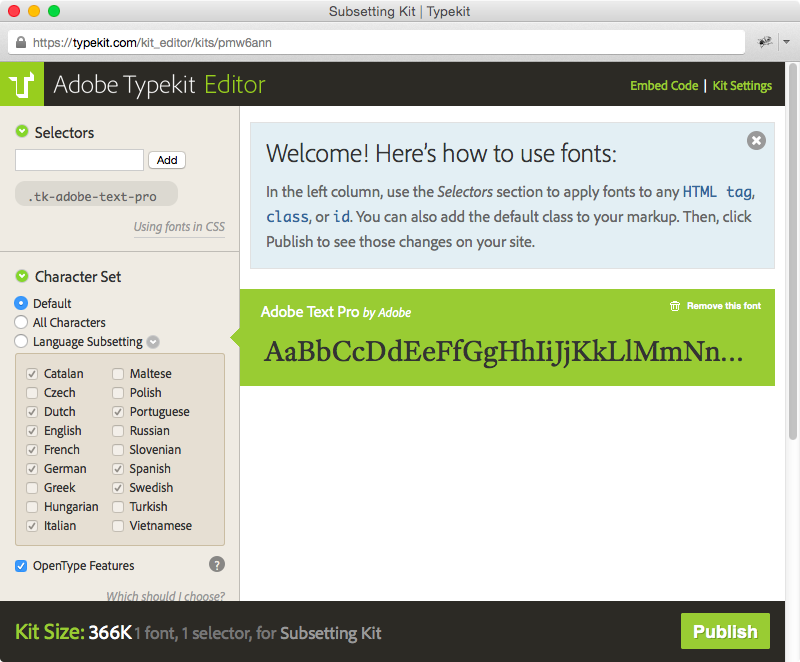 If you're new to language subsetting, we'll walk you through using the feature here. You don't have to change anything if you don't want to — all of your kits will continue to work with the current settings — but many people use custom subsets to control the size of their kits while covering multiple languages. In short, a smaller kit means a faster load time for your website.
The new UI also gives you better visibility into the OpenType features that are included with a font. These are considered advanced typographic controls; on the desktop, you might have used the Glyph panel in InDesign to access some of these characters. On the web, they're styled with CSS. We've put together a quick guide to CSS syntax for some of the most commonly-used OpenType features, and we'll have more on this in the near future on Practice.
If you've already flipped the Early Access switch on, you can leave it as-is, but nothing about the UI you see will change. We'll update again here the next time we release a new feature in Early Access.
In the meantime, enjoy the new subsetting controls! If you have any questions about using the feature, don't hesitate to drop us an email at support@typekit.com.