Berthold Types partners with Typekit
Please join us in welcoming the storied Berthold Types to Typekit! Similar to our partnerships with FontFont, Process Type Foundry, and ARS Type, you can now purchase web licensing for your favorite Berthold fonts and use them on Typekit alongside your library subscription.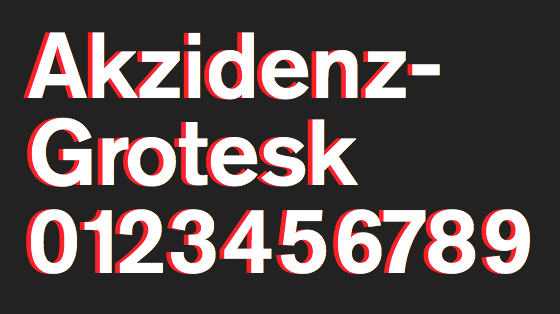 Without a doubt, Akzidenz-Grotesk is Berthold's most well known typeface. First published in 1898, it has inspired other typeface designs for more than a century — Helvetica itself was designed as a reaction to Akzidenz. And now, in 2013, we're happy to report that Akzidenz-Grotesk is available for web use at a level of quality that properly reflects its 115 years of popularity and usefulness.
License Akzidenz-Grotesk and many other typefaces – like AG Book, Akzidenz-Grotesk Next, City, Corporate ASE, Formata, Futura BQ, Imago, and more – directly from Berthold Types, and host them on Typekit with any of our plans (including our free plan).
Here's how it works. Simply purchase a web license from Berthold Types, then follow the instructions to receive a voucher link to Typekit. Your new fonts will be instantly transferred to your Typekit account, can be added to a kit just like any other Typekit font, and will be linked through the simple line of code you've already added to your site.
Fonts licensed elsewhere and hosted on Typekit will automatically work in every browser that supports @font-face, including those that don't support WOFF or EOT. Plus, you can look forward to seamless upgrades in the future, whenever your fonts are updated and as web browsers evolve.