Coming this spring: Adobe Creative Cloud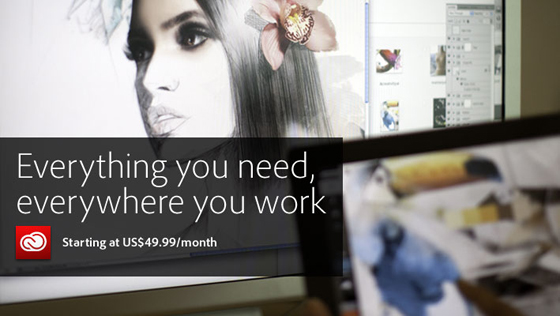 This spring will see the release of Adobe's much-anticipated Creative Cloud service, a new subscription service where you can create, publish, and share your work using Adobe Creative Suite applications, Adobe Touch Apps, and services. We're excited to announce that a Typekit plan will be included with every Creative Cloud subscription.
What does this mean for you? If you choose to subscribe to Creative Cloud, you'll receive a Typekit Portfolio plan along with your subscription. You will get all the applications that come with Creative Suite and a Typekit account with access to our full library — all for just $49.99 a month.
If you are an existing Typekit user on the Personal, Portfolio, or Performance plan, you will be able to upgrade to a Creative Cloud subscription. When you do so, you'll receive a prorated refund for the time remaining on your current Typekit plan. But this upgrade is entirely optional: if you prefer, you can stick with your current Typekit plan just as it is. All of Typekit's plans will continue to be available as standalone accounts.
As we get closer to the Creative Cloud release, we'll provide more detail about how you can upgrade. In the meantime, if you have any questions, feel free to ask them here or write support@typekit.com.