More Web FontFonts to host on Typekit

More FontFont fonts are now available to host on Typekit — including the brand new FF Ernestine, a beautiful low contrast slab serif with extensive language support. In addition, FF Quadraat and FF Quadraat Sans have received a complete design overhaul, plus additional weights. And additional weights are also available for both FF Signa and FF QType.

Top to bottom: FF Ernestine Light Italic, Regular, Demibold Italic, Bold
Ernestine's sturdy bounce, relaxed bends, and cheerful ball terminals give it a familiar and bright-eyed look. In all caps (and small caps) it looks both stately and playful. Available in four weights, each with an italic.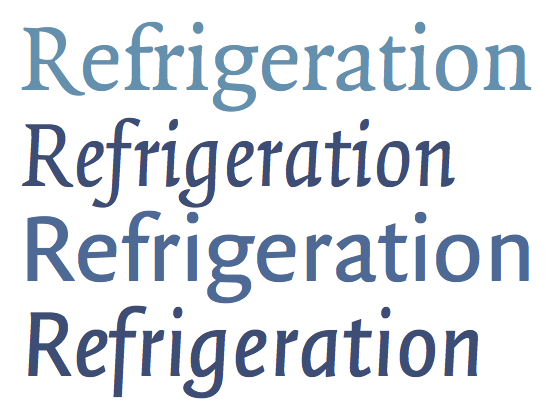 Top to bottom: FF Quadraat Regular, Italic, FF Quadraat Sans Regular, Italic
On close inspection, the Quadraat superfamily's icy demeanor – sharp angles, blocky cuts, stems that appear to have melted and refrozen – might seem eccentric, but these traits are systematic and subtle. The result is a professional text typeface.
License any of these fonts from FontFont, and host them on Typekit with any of our plans (including our free plan). If you're already a Typekit user, that means absolutely no extra cost to you. Just follow a link to Typekit once you've completed your purchase on the FontFont website. Your new fonts will be instantly transferred to your Typekit account, and linked through the simple line of code you've already added to your site.
Your FontFont fonts will automatically work in every browser that supports @font-face, including those that don't support WOFF or EOT. Plus, you can look forward to seamless upgrades in the future, whenever FontFont fonts are updated or any web browser evolves.