New and improved Typekit integration with WordPress.com
Welcome to the blog archives! This blog post is a little out of date now; custom kits from Typekit are no longer a feature on WordPress.com blogs. However, you can still find fonts from Typekit in the WordPress pull-down font menu.
The original post is available below.
---
You've long been able to add Typekit fonts to your WordPress.com blog, but that service just got a whole lot better. Starting today, a new Custom Design upgrade provides a visual font preview that allows you to modify your theme quickly and effortlessly — no coding required. Just pick some fonts and instantly see how they will look on your blog.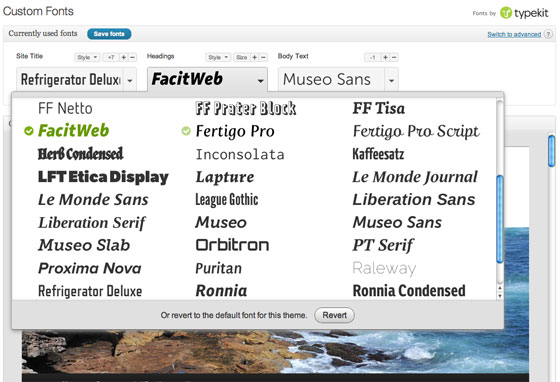 We worked closely with WordPress.com on this new tool, incorporating feedback from users to make it as easy to use as possible. You can quickly change the fonts for your site title, headings, and body text, and preview how they will look on your site before committing. And you can now edit the size and style of those fonts, an oft-requested feature. Most importantly, you can do this all from within your WordPress.com dashboard — no need to bounce back and forth between WordPress.com and Typekit. Plus, the new Custom Design upgrade supports all themes: if you've been waiting to add Typekit to your blog because your theme wasn't supported, that wait is now over.
Sound exciting? It is. And here's a quick screencast so you can see it in action:
[wpvideo fTJjUe0c]
If you are already using Typekit on your WordPress.com blog, we encourage you to upgrade to get all these new features. But you need not do so: you are free to continue using your current Typekit account for as long as you like. Also, for those of you who prefer to edit your own CSS, you can switch to the "advanced mode" in the Custom Design upgrade and use a Kit ID from your Typekit account.
If you have any questions about the new Custom Design upgrade, head on over to WordPress.com to learn more.