San Francisco Creative Mornings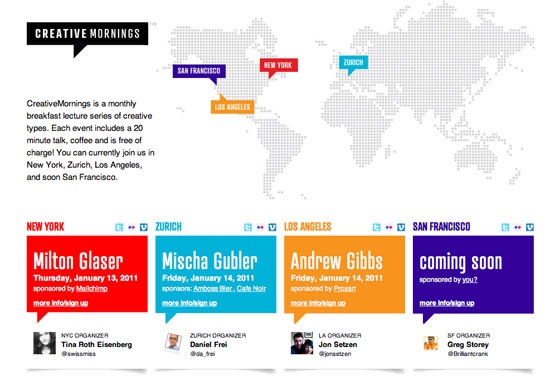 Creative Mornings is a monthly breakfast lecture series of creative types. Founded in New York by Tina Roth Eisenberg (aka "swissmiss"), Creative Mornings has since expanded to Zurich, Los Angeles, and now San Francisco.
The San Francisco Creative Mornings kicks off next Friday, February 25th, with a talk from Laura Brunow Miner; Laura is an editor, designer, and entrepreneur, and founder of Pictory. Typekit is proud to host the event at our headquarters in the Mission.
The event is free, but space is limited, so be sure to RSVP. We look forward to seeing you!
Update: If you missed the event, you can read Dwell's review, or watch video of Laura Brunow Miner's inspiring talk on why we work.