Typekit adds experimental support for IE9
We've rolled out support for Typekit fonts on IE9; republish your kits to see the difference. Since IE9 is not yet mature, this support remains experimental; but we are continuing to work on it and are very excited about the direction it's heading.
What's new in IE9? First, IE9 now fully supports the WOFF font format, which is rapidly becoming a W3C standard. And it permits linking to all variations within a font family, as opposed to previous support for only four fonts per family. Perhaps the most exciting development is that IE9 has dramatically improved the quality of its screen rendering. See for yourself: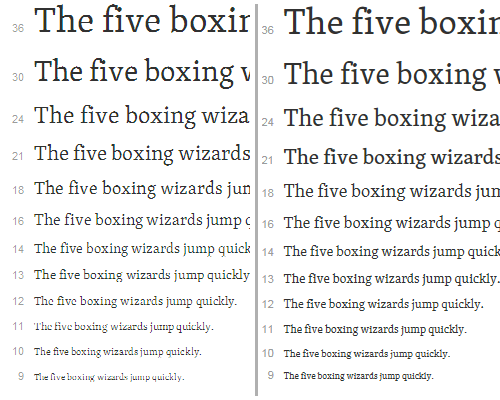 Skolar rendering comparison: IE8 on the left, IE9 on the right
With all of these improvements, we encourage you to republish your kits and review your sites in IE9 so that you can be ready when IE9 is released.
It's important to note that your site must render in documentMode 9 in order to take advantage of the new features included with IE9 (that includes all new features in IE9, not only the ones related to web fonts). If you haven't heard of documentMode before, Microsoft has put together a guide which explains what it is and how you can use it on your site. Overall, we think this is a big step forward and will continue to work closely with the IE9 team to ensure that support for Typekit on IE9 is first class.