Adobe Web Fonts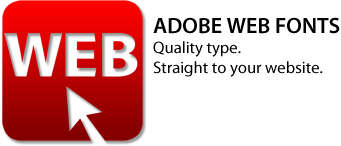 Today we've got some great news. Some of the best typefaces in the world are now available for use on the web.
Anybody who creates for the web has heard of web fonts by now. Every popular web browser now supports font delivery over the web (via the CSS @font-face rule), giving designers more typographic options than ever before. We here at Adobe have been looking for the best way to get some of our most popular designs to you, so today we're excited to announce a partnership with Typekit, the web font pioneers of San Francisco who, since last year, have been leading the way in web font technology and delivery.
For more than 20 years, Adobe Originals typefaces have been setting the standard in digital type. Not only are they timeless, award-winning designs, but their technical quality has made them a reliable tool for designers and typographers. These qualities are just as important on the web as they are in print, and those of you who have come to rely on our fonts for print will find that same quality and reliability when you use Adobe Web Fonts.
Delivering fonts on the web takes a similar devotion to quality and reliability, and we are impressed with Typekit's commitment to both. Those of you who already use Typekit have some fantastic new choices, and for the rest of you who have just been waiting to get Adobe fonts into your web pages, I think you'll be pleasantly surprised by how easy it is to select and use them with Typekit. They have earned their place as a leading web font service and are constantly improving and enhancing their customers' experience. (For those of you who are more technically minded, you'll find great tools with Typekit's WebFont Loader and the Typekit API, which offer even more control over the web font experience.)
For this debut of Adobe Web Fonts, I think we've made some great choices. Everyone knows Myriad and Minion — pervasive workhorse sans serif and serif typefaces, respectively, which will prove to be as useful on the web as they have been in print. Thomas Phinney's Hypatia Sans and Carol Twombly's Chaparral are distinctive and versatile. Adobe Text is Robert Slimbach's newest design which a lot of people haven't even seen yet (so far it has only been available as a registration benefit for CS5 customers) but I'm certain it will quickly establish itself as a flexible and reliable text typeface, and I'm pleased it will now get a wider audience.
Richard Lipton's classic Bickham Script is one of our most popular display typefaces and a distinctive addition to the Adobe Web Fonts collection. More of Robert Slimbach's work now available for web use include Adobe Garamond, Caflisch Script, Cronos, and the "display" designs for Garamond Premier (based on Claude Garamond's beautiful Gros Canon type).
Speaking of which: You will find that we've included optical size variations for some of our typefaces. These designs are carefully crafted to look their best at small sizes ("caption"), medium- to large-size headings ("subhead"), or in headlines and other large sizes ("display"). On the web, these distinctions are less resolved than in print, but optical sizes will give you more options to find just the right font for your needs — and giving users better options for fine typography is what Adobe Originals are all about.
Remember, Adobe Web Fonts support the same languages and scripts as their desktop counterparts. Most are "Pro" fonts — meaning their character set supports Central European languages. Adobe Text, Garamond Premier, Hypatia Sans, Minion, and Myriad also support Greek and Cyrillic. (Select the "All Characters" Subset option in Typekit to use them.)
I was a fan of Adobe Originals before I even came to work at Adobe, so I am truly happy whenever we can find a way to make it easier to get them to people and find a new audience for what I think are some of the best typefaces ever made, digital or otherwise. Web fonts promise to bring better typography to even more people, and Adobe is pleased to have Typekit as a partner in doing that.
To learn more about Adobe Web Fonts, Adobe's partnership with Typekit, and to see which fonts are available, visit the Adobe Web Fonts page, or visit Typekit.