exljbris and Typefolio join Typekit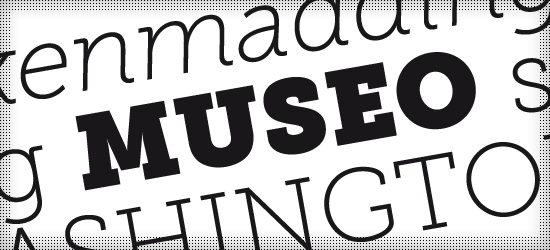 In response to many requests, we're happy to announce that Jos Buivenga's foundry exljbris Font Foundry is joining Typekit, including the very popular Museo, Museo Sans, and Museo Slab . Based in Arnhem, Jos makes his fonts free for all users and that's what we are doing as well- all exljbris fonts are available in all Tyekit subscription levels.
In addition to the Museo family, we're adding the robust and and elegant Anivers , the clean and contemporary Calluna, and the beautiful Fertigo Pro and Fertigo Pro Script.
Also joining Tyekit is Typefolio, an independent Brazilian type foundry established by the designer Marconi Lima. Its foundation was motivated by the desire to offer to the international market typographical projects that prioritizes the quality in technique, functionality and aesthetics.
The first font from Typefolio is Adriane, a font with unique typographic details that provide both personality and excellent legibility at small sizes.
Go have a look!