Take it from Dr. Knuth: "The world of type is in good hands."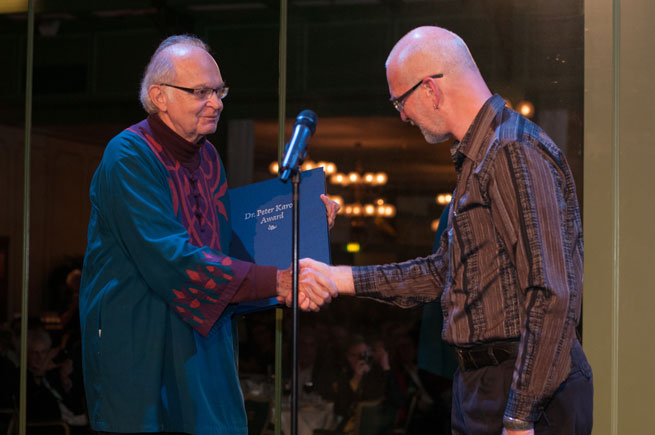 Dr. Donald E. Knuth, esteemed Professor Emeritus at Stanford University and inventor of the TeX typesetting system, was awarded the third Dr. Peter Karow Award for Font Technology and Digital Typography at ATypI 2013 in Amsterdam. The 57th annual conference of the Association Typographique Internationale, held October 9–13 at the NH Grand Hotel Krasnapolsky on Dam Square, drew hundreds of delegates from around the world.
The award was presented to Dr. Knuth on October 12 by its namesake, Dr. Peter Karow (URW); David Lemon (Adobe); and Frank E. Blokland (Dutch Type Library). Held during ATypI's gala dinner at the Krasnapolsky's Winter Garden, the presentation took place before an enthusiastic crowd well acquainted with the contributions Dr. Knuth has made to contemporary typography and computer programming. After feasting on an extravaganza of all things typographic, the awards presentation gave ATypI attendees a chance to celebrate the historic achievements and charming personality of one of the world's greatest—and most beloved—computer scientists.
Not content to merely accept his award and jump on a plane back to his home in Palo Alto, Dr. Knuth was an enthusiastic participant in the conference activities, reconnecting with long-time colleagues and drawing renewed inspiration from today's typographic talent. In his humble and amusing acceptance speech, Dr. Knuth recalled meeting Dr. Karow, inventor of Ikarus, 35 years ago.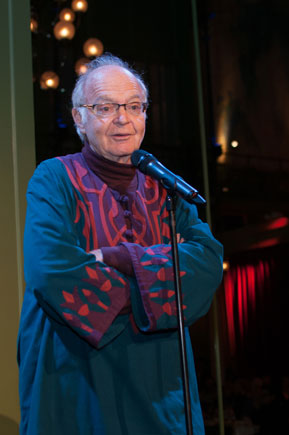 "For the first time in my life, I saw letterforms that were THIS BIG," Dr. Knuth said. He marveled about Dr. Karow's amazing computer-controlled knife—"like a plotter"—that would cut gorgeous and "mind-boggling" enormous letters from rubylith in the process of converting typefaces from photofilm to scalable digital fonts.
Dr. Knuth spoke briefly, and delightfully, about his association with Professor Hermann Zapf, a modern-day typographic Rennaisance man and hero to type designers and calligraphers everywhere. Prof. Zapf collaborated with Dr. Knuth on the Metafont project, the Computer Modern and Euler types, and the "3:16" Bible project, among other endeavors.
"When I dedicated the [METAFONT] book and said his strokes 'are the best,' I had a double meaning in mind," Dr. Knuth said. "Not only Hermann's drawings, [and] his character strokes are the best, but also—he was a very forthright critic. If you showed him something and he didn't like it, he would tell you why he didn't like it, and he wouldn't just be nice to you."
"I worked with him quite often and he would point out the errors in my work," Dr. Knuth said. "Then, on these rare occasions when he said he liked it, that was like stroking me on the back. So that's why I said his strokes are the best—I knew that they were also real when he stroked me."
Dr. Knuth mentioned some of the other great type designers he's worked with, including Charles Bigelow (who helped him found Stanford's lauded digital type program), Gerard Unger, Matthew Carter, and Richard Southall. He talked about the weekly meetings he would have with these and other gifted collaborators, where they would toss around ideas and figure out where they should go next.
"In those days, I made one prediction that came true," Dr. Knuth said. "I could foresee the day when font designers would be heroes. Font designers weren't quite well known [then]. I thought, you know, it's inevitable—the way things are going—there's going to be a time when people of the world are actually going to understand what's so fascinating, and what wonderful talent goes on in font design."
Dr. Knuth riffed on his prediction, citing the international admiration for Gary Hustwit's critically acclaimed documentary, Helvetica, the omnipresent iPad, with its ability to make type look so beautiful to the layperson, and how "people on the street" now talk about typefaces in everyday conversation.
At one point during the ceremony, Dr. Knuth left the stage, having finished his acceptance speech—or so he thought. The ATypI crowd got to their feet and gave him a resounding ovation, compelling him to return to the stage beaming. It was a rock star moment worthy of Dr. Knuth's brilliant career and significant partnerships. The author of the monumental multi-volume Art of Computer Programming, Dr. Knuth had the crowd roaring with laughter when, with a twinkle in his eye, he implored them to buy his book.
In a most endearing—and appropriate—segment of his remarks, Dr. Knuth verbally embraced the crowd at ATypI when he said, "It's been great for me to see old friends here at this conference, but also, especially inspiring for me to see so many creative young people who are going to carry on to the next generation."
"The world of type is in good hands, and I congratulate you all for being my personal heroes."
Watch the video of Dr. Knuth's acceptance speech in its entirety
Just for grins: Dr. Knuth's 15 minutes of early-internet cartoon fame (by David Farley, aka Dr. Fun)
Barbara Beeton, Dr. Knuth's "bug collector," talks about her good friend and colleague