From Broadsides to Websites: Miguel Sousa brings wood type to digital life with HWT Gothic Round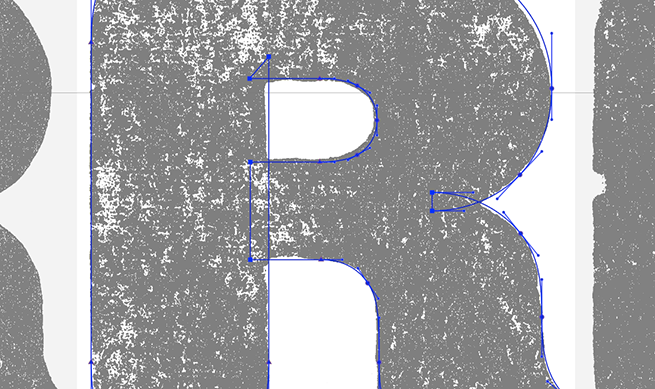 Last week, we talked about the adventures of Adobe type designer Miguel Sousa as he traveled the US conducting research on his sabbatical project, a revival of a historic wood typeface. He carefully paged through gorgeously produced antique specimen books and studied the shopworn surfaces of giant wooden letters stained with the ghosts of ink from bygone eras. Miguel printed with rare alphabets hewn from nineteenth-century timber, fueling his imagination as he worked to craft a typeface that would smoothly meld historical charm with advanced typographic technology.
The result of Miguel's summer sabbatical journey—along with many months spent on research and type design and production in San Jose—is the finishing of a face that captured his heart, released this week as HWT Gothic Round.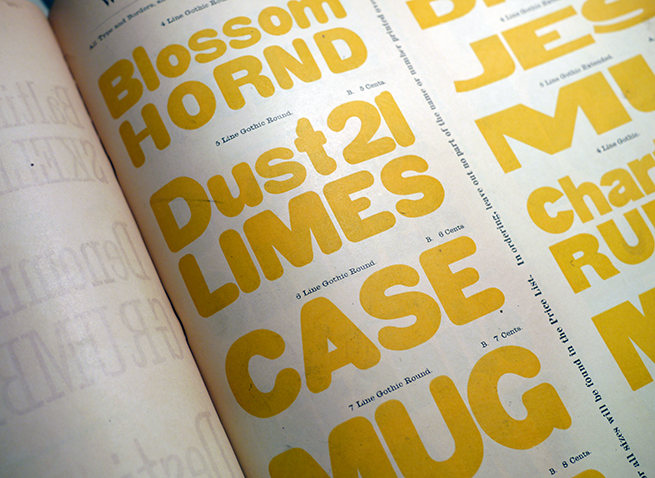 What the heck is an HWT?
HWT is an acronym for the Hamilton Wood Type Foundry, a partnership between the Hamilton Wood Type and Printing Museum and P22 type foundry. The foundry holds a growing collection of digital revivals of wood typefaces, carefully reworked to meet the needs of contemporary users while remaining true to the character of the original designs.
A portion of the proceeds from all sales of HWT digital fonts go toward supporting the mission and continuing operations of the Hamilton Museum, an incredible educational and cultural resource dedicated to wood type and printing history. The Hamilton holds a place near and dear to the hearts of type lovers and historians, and the global design community has rallied with innovative ways to help the museum survive and thrive.
After Miguel spent time at the Hamilton Museum during a TypeCon2012 workshop and learned of the new HWT collaboration that would help financially support and promote the institution, he jumped at the chance to volunteer.
"Originally, I was thinking I could just help out on the technical aspects of it," Miguel said. "Even though I have the MA in typeface design and enjoy drawing outlines, my work has been more on the production side of font development. I originally thought that would be my contribution."
That changed after the conference, when Miguel followed up with Richard Kegler of P22.
"He presented me with a few pictures and said, 'Hey, which of these are you interested in doing?' And that's when it hit me." Miguel said. "I can do this. It will be a great opportunity to do some design, and a nice break from technical work. So I chose the Gothic Round and went from there. Rich provided the initial resources and I also went out on my own to find a few more."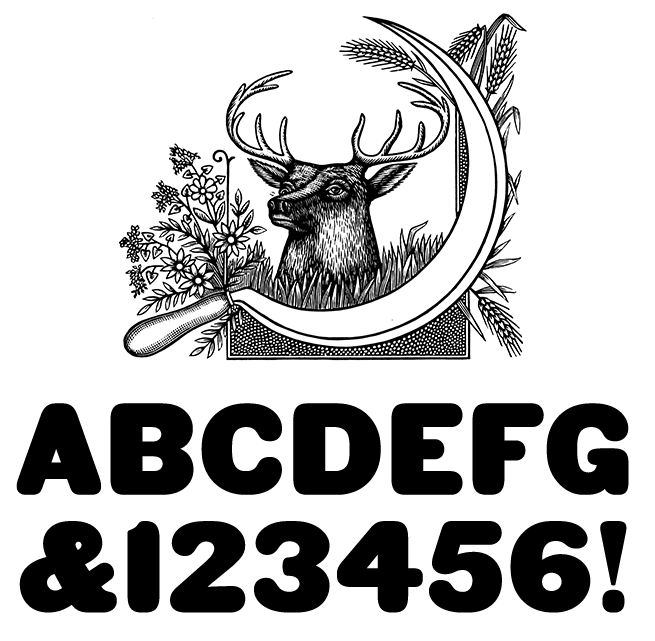 Into the woods
After Darius Wells of New York introduced the means to mass-produce wood type in 1827, the growth of the format was explosive. Cheaper to produce and far lighter than hot metal, wood type was much more suited to printing the large headlines in demand for broadsides, advertising, and other larger-than-life applications popularized at the time. By the mid-1800s, there were many wood type foundries operating in the US. The Hamilton Manufacturing Company, founded in 1880, became the largest producer of wood type in the US by the turn of the twentieth century. As it steamrolled its way to a near monopoly, the Hamilton Co. bought out many of its competitors, resulting in a vast library that often included multiple variations on the same base typeface designs.
HWT Gothic Round is a direct digitization of existing wood type. Several rounded gothics were published in the nineteenth century, and, after closely examining a variety of designs, Miguel settled on one version to revive. He had trouble locating a complete character set in the gothic he chose, and ultimately digitized the uppercase from one manufacturer and the lowercase from another. Miguel maintained some of the quirks from both while smoothing out other oddities to create a more harmonious design.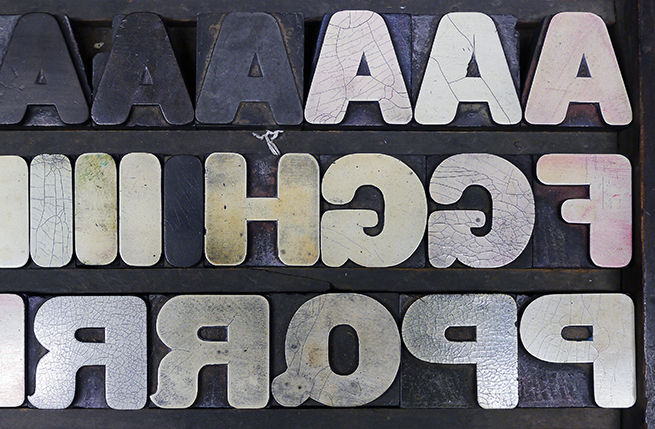 Since most original wood type held only a limited character set, Miguel had to interpret the original design to complete the font for practical use.
"The sorts available in an American wood type set are usually just uppercase, numbers, dollar sign, ampersand, basic punctuation, and sometimes lowercase," Miguel said. "Any more than that, and you're lucky."
During the revival process, Miguel made use of his designer's imagination—along with his extensive research into the rounded gothics—to add approximately 240 new characters to the font. While some additions were accented versions of the basic letters, at least 70 were original designs, including ligatures and other forms needed for fine typography. Miguel also added support for Central European languages in addition to the standard Western Latin character set.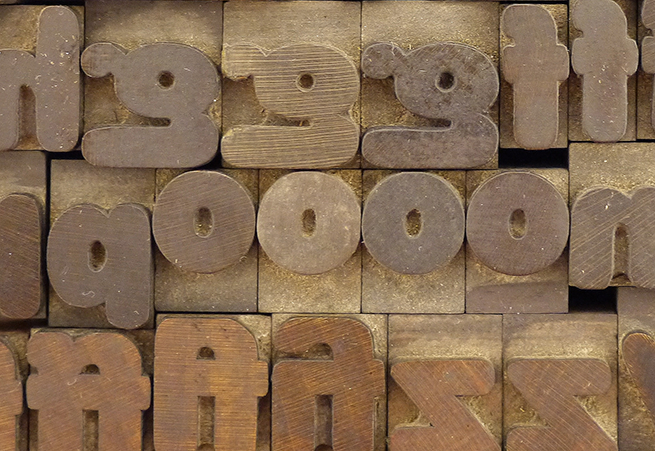 Even though Miguel works on type design and production daily in his work for Adobe, HWT Gothic Round is actually his first commercial typeface release. He hopes to revive other wood types to benefit the Hamilton, as supporting the museum has become one of his passions.
"One of the things I realized while doing HWT Gothic Round is that I really need to be in love with a specific design in order to help me through the project," Miguel said. "There are many times when you think, yeah, this is a great project to work on, but how am I going to draw this glyph, or, who uses these letters, or, who's really going to appreciate this detail. If you work on a design that is fun and you are really into it—that helps you get through it. And when you nail it, you realize, hey, this looks pretty good. In the end, it feels great to know that you're adding something to the design, extending its usage."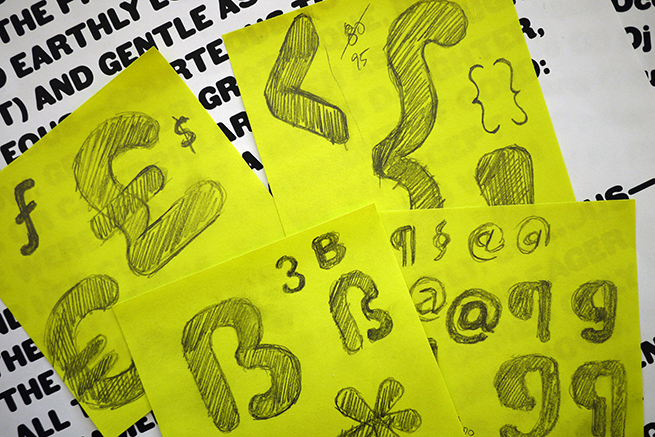 HWT Gothic Round is available in both OpenType and web font formats, ready to be used in print or onscreen. Its soft but sturdy bold forms are as fashionable today as the original must have been in the 1800s. It's one of those rare antiques that will truly stand the test of time.
To see more photos of the Gothic Round sources visit Adobe Type's Flickr set.
HWT Gothic Round at the Hamilton Wood Type Foundry
More of the story behind HWT Gothic Round
More on the gothics at the Rob Roy Kelly American Wood Type Collection