Adobe CFF font rasterizer accepted by FreeType
Last month we announced that Adobe, in collaboration with Google and FreeType, contributed its CFF font rasterizer technology to FreeType. Today we are happy to let everyone know that the Adobe CFF Engine has been accepted by FreeType and the Adobe-enhanced rasterizer is now on by default.
We'd like to thank everyone who tested the Adobe CFF Engine and reported issues during the beta period. The code was released as a "mature" beta but testers did find a few issues and an improved version of the rasterizer is now being delivered to all devices that use the latest version on FreeType (version 2.5.0.1).
So what does this mean? As discussed in our initial blog article, the inclusion of the Adobe CFF engine in FreeType improves font rasterization for CFF fonts in environments that use FreeType. Since FreeType is used by more than a billion devices, including Android and Chrome OS, both Adobe and Google see the contribution as one that will improve the CFF font experience for lots and lots of users. The experience with CFF fonts will match the one users have enjoyed for many years on Windows and OS X.
We could talk again about the rasterizer's technical improvements, but a picture is worth… (well you know the saying!). The following image was shown in our initial announcement, and we think it does a great job illustrating the improvements made by the Adobe rasterizer.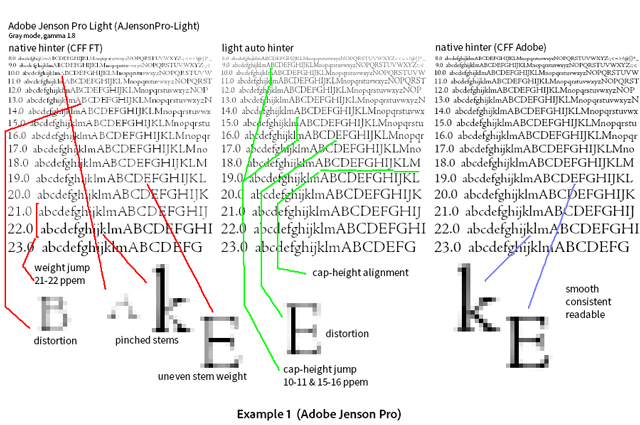 As you can see, the Adobe CFF Engine in FreeType consistently produces smoother and more readable text. And now that it has been accepted by FreeType, and is on by default, we are one step closer to achieving great quality rasterization for CFF fonts on devices that use FreeType.  We expect  this new feature to be picked up by products in the coming months and we will keep you in the loop as adoption increases. Stay tuned!
To read Google's blog post please visit http://google-opensource.blogspot.com/2013/06/youve-got-cff.html.