Storify partners with Typekit
We're happy to announce a new partnership with Storify, a platform for curating social media posts and turning them into stories that users can easily share and also embed directly into their own websites. Storify is used by major news organizations like CNN, The New York Times, and The Washington Post, by government and non-profit organizations such as the White House and the United Nations, and by brands of many kinds.
Now, Storify Business users can apply Typekit fonts to embedded stories, giving you more customization options and allowing you to maintain a consistent brand identity by matching your website's fonts exactly.
To use Typekit fonts with your Storify Business account, add a kit ID from your Typekit account to the Embed Style settings in your Storify account.

Then, select your Typekit fonts from the Headline and Body menus.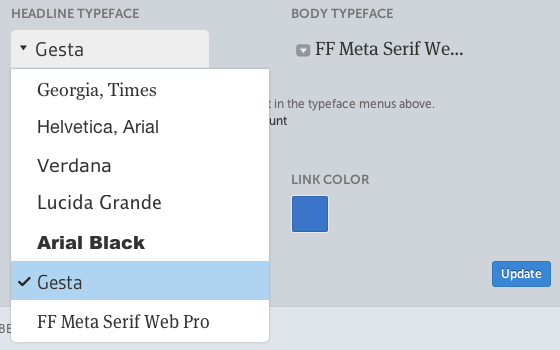 Storify has provided detailed instructions here.
Do you run a platform that would benefit from a Typekit-powered web font integration like the one described here? Drop us a line at support+partners@typekit.com to learn how to get started.