At long last, Futura comes to Typekit

The wait is over. We're delighted to announce that Futura, our most oft-requested font, is now available on Typekit. What's more, ParaType's Futura PT has been manually TrueType hinted and looks fantastic on Windows.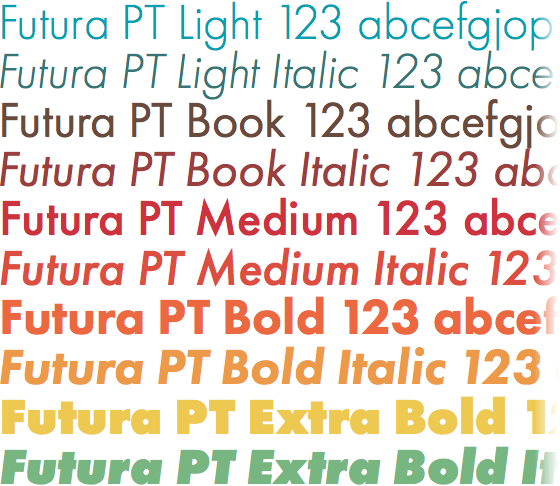 Futura PT's classic design — tall ascenders, near perfect geometric shapes — make it both instantly recognizable and irrepressibly modern. And a range of five weights, from Light to Extra Bold, each with an italic, make it perfect for a variety of uses. Try the Book weight for text, the Medium or Bold weights for headings and navigation UI, and the Light or Extra Bold weights for large text.
In addition, Futura PT benefits from ParaType's extensive experience with language support. Futura PT supports Russian, as well as Catalan, Czech, English, French, German, Italian, Polish, Portuguese, Spanish, and Swedish.
Most importantly, Futura PT has been meticulously prepared to render well on screen, even in Windows, and even with font smoothing disabled altogether. Very few web fonts have been given this amount of care — the result is a completely reliable, strikingly legible typeface that feels like a native part of every browser and operating system.


Futura PT Book, from left to right: Mac OS X, Win 7 (ClearType), Win XP (smoothing off).
Upgrade to a Personal plan or higher to take advantage of Futura PT. If you're already a paying Typekit customer, well, enjoy the new fonts! If you've never given Typekit a try, sign up (it's free!) and upgrade to a paid plan whenever you're ready.