New releases from FontFont to host on Typekit
We're delighted to announce that fifty-five (that's right, 55!) more Web FontFonts are now available to host on Typekit — more than a thousand weights and styles. New-to-web families include FF Bau, FF Clan, FF Good, FF Hands, FF Basic Gothic, and more. Check out the full list of available Web FontFonts, and augment your Typekit library subscription at any time.
Web FontFonts you license can be hosted on Typekit with any of our plans (including our free plan). If you're already a Typekit user, that means no extra cost to you. It's easy, and all of your fonts stay organized on Typekit in a special "My Library" tab. Here's how it works.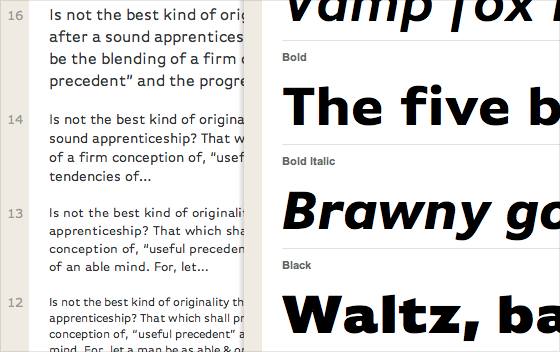 Above: FF Basic Gothic Web Pro Regular (left) and heavier weights (right).
One new family – FF Basic Gothic, with its thirty-two weights and styles – is also available in Typekit's subscription library: see FF Basic Gothic Web Pro and FF Basic Gothic SC Web Pro. FontShop describes FF Basic Gothic as a very good alternative to Verdana (with a pinch of Gill Sans and Antique Olive) and suitable for on screen body text, thanks to the hinting experts in the FontFont Type Department.
Aside from all of these new offerings, FontFont has updated the rendering and vertical metrics of many existing Web FontFonts. To receive the latest version of any typeface on Typekit, just republish your kit. We hope you enjoy this latest batch of great Web FontFonts. Let us know which ones you like!