Improved and expanded font specimens on Typekit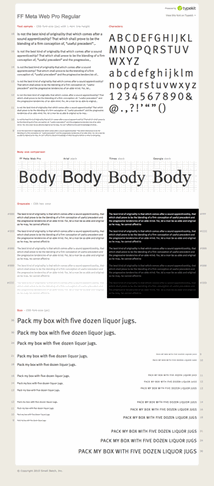 A few months ago, I wrote an article for A List Apart introducing my Web Font Specimen project. Since joining Typekit, I've been working with our creative director, Jason Santa Maria, on a new version of Web Font Specimen, and we thought it would be great to build it right into Typekit. I think this new version is even better than the original, and especially effective when all the prep work of finding and adding hundreds of typefaces is already done.
So here's how it works: On any font's Specimens tab, next to the style dropdown, you'll now see a link to Open expanded Web Font Specimen. Follow this link to see the typeface exercised at different text and heading sizes, scan its basic characters, and see how its dimensions compare to common web safe typefaces like Arial, Times, and Georgia.
Now, you can browse the entire Typekit library of web font specimens. Study your favorite typefaces, view the specimen pages in different browsers and operating systems, and really get a feel for the type. We see lots of potential for this feature to help with examining and making decisions about web type.
One thing I love about Typekit is that we're working hard to make sure that designers have all the information they need to make the best choices as they use real fonts on their websites. This commitment to understanding and sharing what we know about how type works on the web is why we have features like our Type Tester, why you can see screenshots of Typekit fonts in every browser, and why we've now built in Web Font Specimen. We hope you'll find it useful.