Typekit now supports fonts for the iPad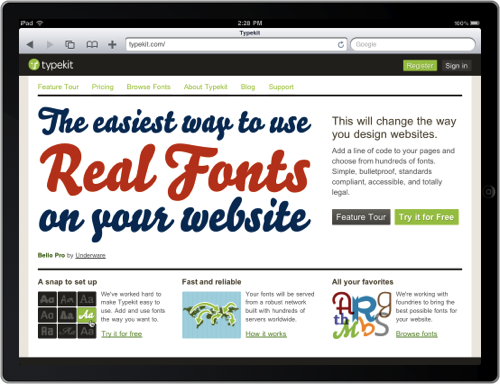 As we mentioned earlier this week, we've been testing web font support on Apple's new iPad. Our early results were a bit disappointing: No OpenType or WOFF support, intermittent crashing with multiple font varieties, and non-standard text selection behavior. Despite all that, we believe the iPad will be a popular way to browse the web and read content. By launching Typekit support as quickly as possible, we can all test our sites and make decisions about supporting the device.
Enabling your site for the iPad
If you'd like to try the new Typekit iPad support, just sign in to your account and select the kit you'd like to configure. Then, launch the Kit Editor, select Kit Settings, and click on Experimental Features. Just choose the setting you want and republish your kit. A moment later, you'll be able to view your site with web fonts on the iPad.
Caveats
Bear in mind that Apple is using Mobile Safari on the iPad, and that browser's web font support is far from robust. It only supports SVG fonts — which Typekit will serve automatically. As detailed in our earlier post, using multiple weights or styles will often cause the iPad's browser to crash. You can change how many variations of a font you enable in the Kit Editor.
Additionally, we've noticed a few of our SVG fonts don't include the full character set. This does not occur in the OTF, WOFF, or EOT versions of our fonts, and we're tracking down the problem with SVG conversion now. We'll update those fonts as soon as we can, but we felt that getting these fonts out sooner was better. Again, be sure to check out your particular site's performance on the iPad.
Moving forward
We're not the only ones surprised by the iPad's limited font support. Our friends over at FontFeed have taken a detailed look at how fonts and typography are handled by all the iPad's applications. The consensus is that this is certainly version 1.0. There is room for a lot of improvement, but we're confident that Apple will iterate quickly. To that end, we've filed bugs via the Apple Developer Program, and will keep you posted as we learn more.