Type talks & more in San Diego: Register now for Adobe MAX
This coming November, we're working with some great names in type to present a fantastic series of talks and sessions at Adobe MAX, our company-wide annual conference on creativity. This is your last week to score early-bird pricing on tickets, so we thought we'd give you a heads-up for what we've got in store.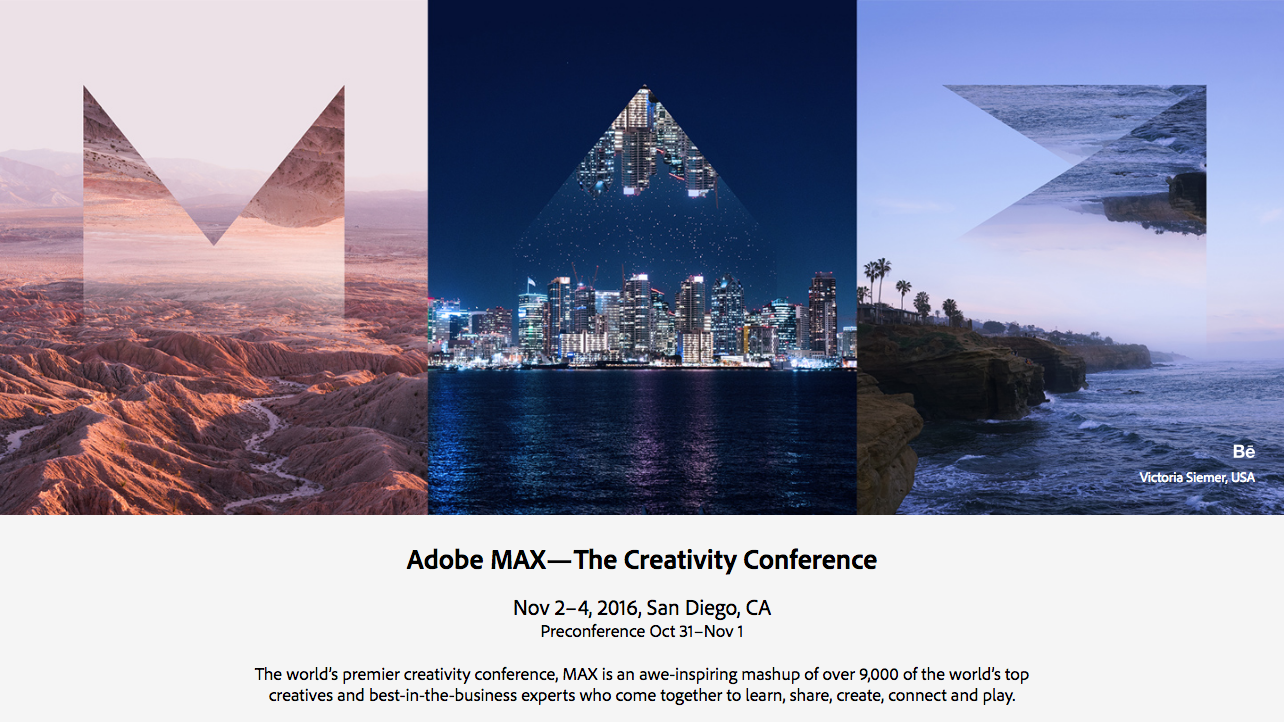 The conference this year is happening in San Diego from November 2–4, with pre-conference workshops on October 31 and November 1. This event is huge, and it definitely isn't too soon to start registering for sessions that sound interesting to you! If you're remotely type-inclined, we'd steer you towards these in particular.
With Shelley Gruendler
Yes, Type Camp is coming to Adobe MAX! This full-day workshop covers the essentials of hand lettering with parallel pen. All experience levels welcome.
By Gemma O'Brien
In this session, Gemma discusses her path to becoming a type designer in the midst of the Internet age, and her reflections on how design is influenced by and connected to an increasingly networked culture.
By Martina Flor
Letterer and designer Martina Flor walks through the characteristics that define strong lettering, and explains how to train your eye to look for quality when you encounter hand lettering in the wild.
With Thomas Phinney
This type lab will teach you all the tricks of working with OpenType features in fonts — many of which you can use daily, and some which have dramatic effects on your typesetting. The 90-minute lab runs twice during the conference, so you can pick the day that works best for you.
By Dan Rhatigan
Whether you go hands-on in a lettering workshop or head-down in the type lab (or both!), Dan's session brings it all together with a look at how analog and digital technology can work in tandem for powerful design.
By Nina Stössinger
What does a type designer look for when she's choosing type for her own projects? Nina walks through some of the features and qualities that can make a typeface really shine in specific situations, and demonstrates how to unlock their full potential.
By Yves Peters
How do movie posters use principles of design and typography to tell a story with just a glance? Yves translates it for us and shows how color, imagery, and letterforms all contribute to the overarching mood.
With Laura Worthington and Debi Sementelli
Get an introduction to the brush lettering process in this half-day workshop with two talented lettering artists. All materials are provided, and this sounds like a wonderful way to end a full week — and maybe put a little of what you've learned into practice!
We're really excited for this lineup at MAX — and even though it isn't until November, it'll be here before we know it. If you're ready to sign up, use our discount code to save a little on your registration fee: PTKDP16. You can still use the discount code after August 19, but you'll save more if you sign up this week.
Hope to see you there!